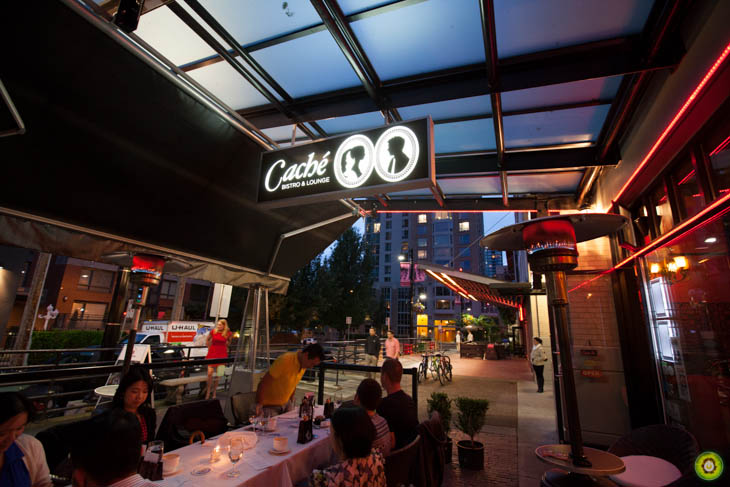 Last week, I was invited to a menu tasting with a group of fellow bloggers at Caché Bistro in Yaletown. It was an absolutely perfect day to dine on the culinary masterpieces of Chef Alex Mok. The menu showcased Chef Alex's classic French techniques that were elevated by his own Asian flare. It goes without saying that Chef Alex also strives to source the freshest and greatest local ingredients.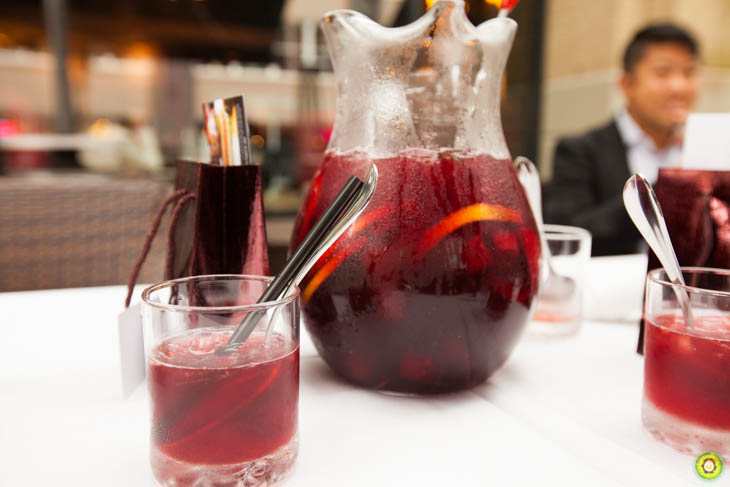 For our apértif, we had some incredible Sangria! The pitcher was packed with fruits like strawberries and oranges, which was great 'cos how else would Dennis Pang get his daily dose of fruits? Super refreshing on a warm summer's day. I had about four of these before we moved on with our meal.
Moving from the sweet to the savoury, we had a trio of featured cured meats from Oyama Sausage Co. Also on the board were mixed olives, fig jam, pickled vegetables…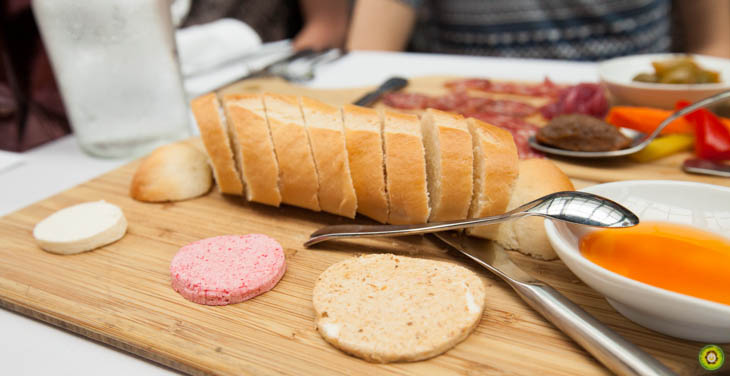 … crostinis, specialty butters and lobster oil. Pretty much everything was made fresh in-house! I know what you're thinking – "what is that pink stuff?" That was the cranberry butter! The other two butters were white truffle and roasted peanut (I'll leave it up to you to guess which one's which… it's really hard!). All three were awesome, but the white truffle was my definite favourite!
Our very funny Australian server, Adam, went through the names of the meats quite quickly, so I can't remember what they're called. Still and all, everything that I've tried from Oyama has been the drool-worthy so far! I also hear that their Duck Prosciutto is ducking delectable!
The Chef's Charcuterie was paired with Sumac Ridge Tribute Brut from Okanagan Valley, BC. I'm not much of a wine connoisseur, yet I enjoyed the effervescence and fruitiness of this one. To me, it tasted like peaches :)
This dish made me wonder why haven't I been eating more beets? The Beet Salad was made with roasted mixed beets, field greens, crispy goat cheese (no, that's not a scallop in the middle) and lightly tossed with white balsamic dressing.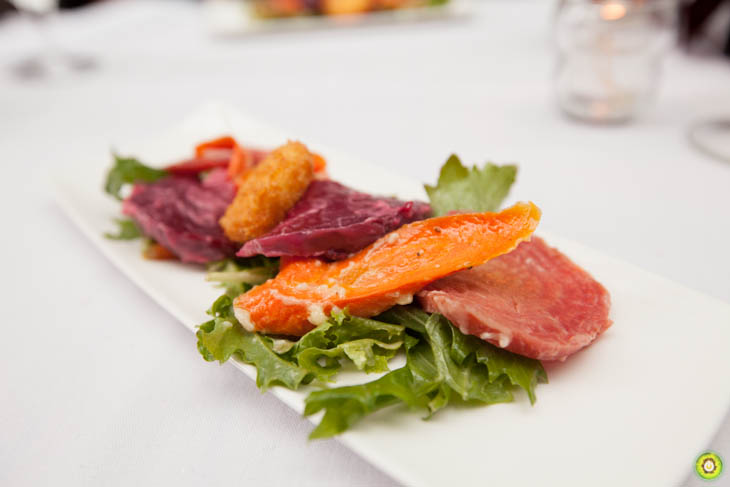 Everything on the plate was extraordinary. The beets were unbelievably tender and there was just enough dressing to bring out maximum flavour. And the goat cheese? Straight up, I usually don't like goat cheese, but this one was very mild and tasty. There's just something about deep-frying cheese that makes it dangerously addictive.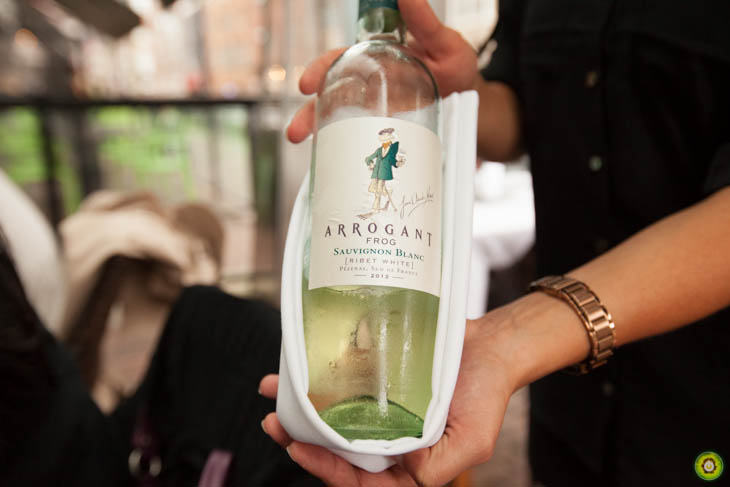 Another dish, another wine. The salad was paired with the 2012 Pays d'Oc Sauvignon Blanc Arrogant Frog. The name alone makes it fun to drink: Arrogant Frog, haha! It's a bit tart and citrusy, which made it refreshing.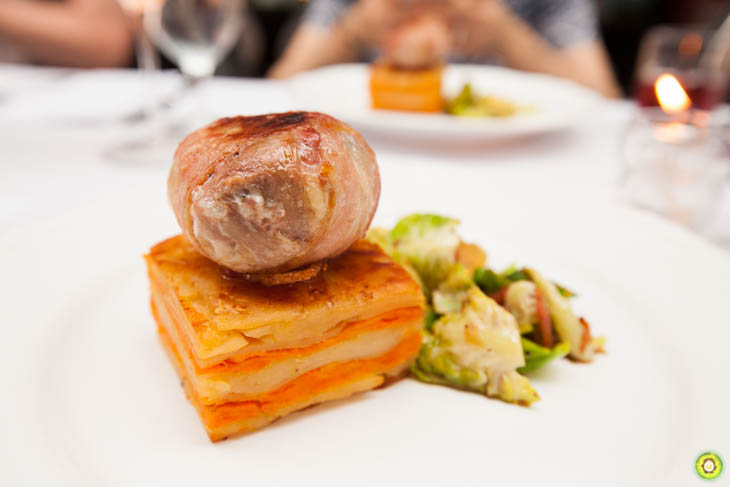 How many of you ever deboned a chicken? How many of you ever deboned a QUAIL?! Not many I bet, but don't worry because the Chief Deboners at Caché Bistro are here to save the day.
The Deboned Quail is bacon-wrapped Fraser Valley quail stuffed with marinated cranberries. Elevating the glorious meat sphere was the Kennebec potato and yam pavé.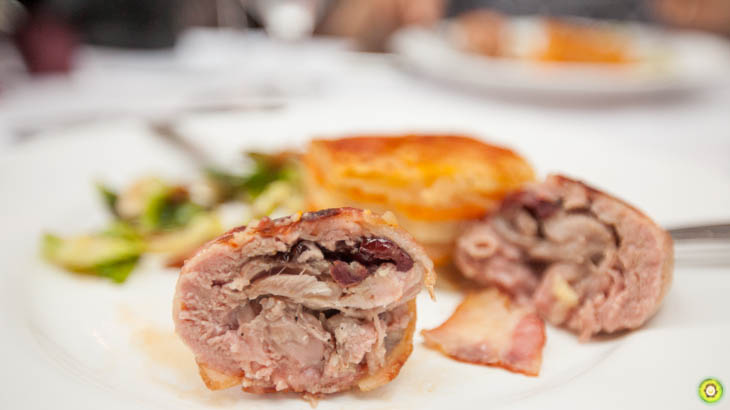 The bacon must have locked in the juice because the quail was so moist and tender! The pavé was creamy and delicious.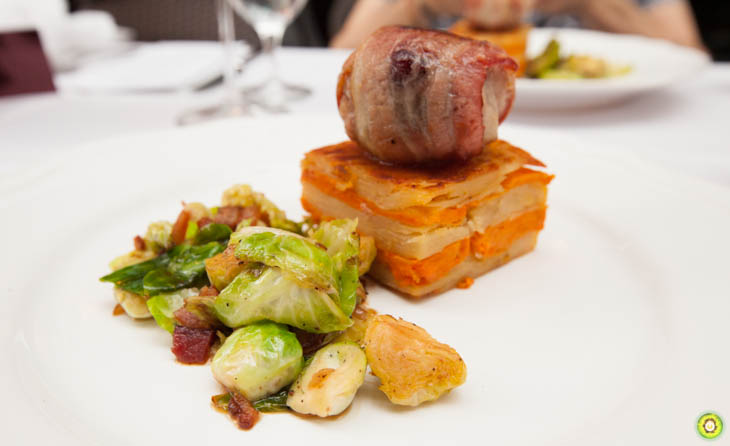 But the best component was not the quail. Not the pavé either. It was the pile of brussel sprouts graced with bacon and maple syrup. They were the most delicious vegetables that I've ever had, literally.
This course was paired with the 2011 Le Vieux Pin Vaila Pinot Noir Rosé. With spice accents, this wine is a beautiful blend of summery fruits like cherries, peach, raspberries and strawberries.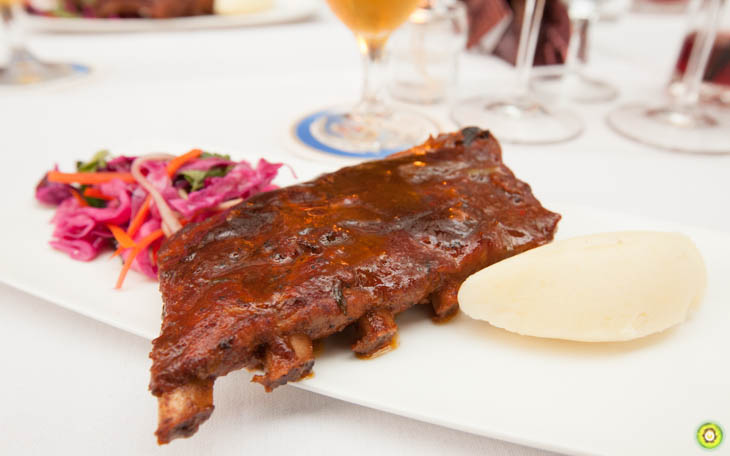 Our second entrée was the Mok Ribs – slow braised baby back ribs, perfectly coated with Chef Alex's secret BBQ sauce. It's served with a truffle mashed potato and fresh sesame cilantro red cabbage coleslaw.
These ribs were outrageously tender! It would be completely legitimate to eat this dish with a plastic baby spoon because the meat just fell off the bone, yet it still retained its meaty texture. Just incredible… I'd come back just for this!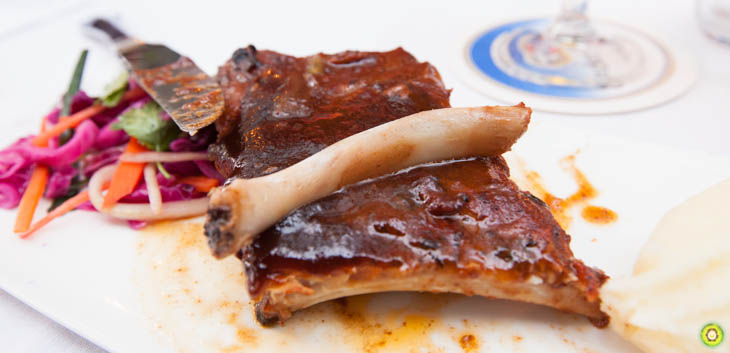 Look at that bare bone! The meat slid off like silk.
Prepared with the perfect level of acidity, the coleslaw was fresh and crisp. It's probably one of my favourite coleslaws, alongside Acme Café's.
It's only logical to pair this with a lager. We had the Hacker-Pschorr Keller Unfiltered Lager. It's an extremely light lager, which didn't go well with some of the other bloggers. I thought it was okay since I love all types of lager.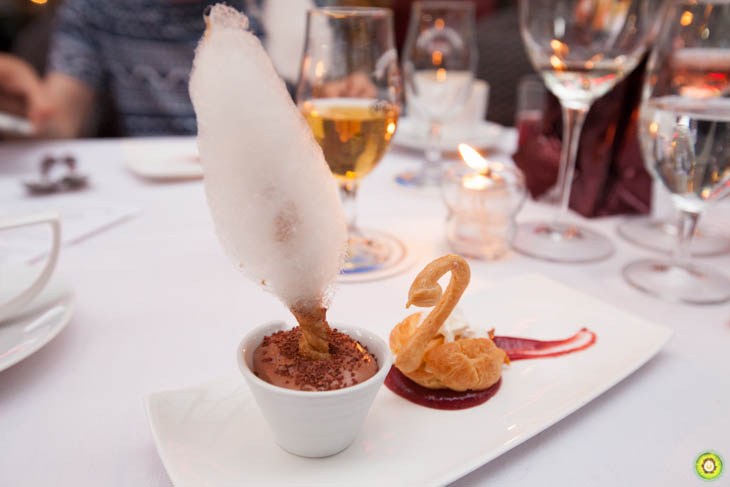 Finally, it's time for the dessert duo: Profiteroles de l'Amour et Mini Chocolate Mousse Tree.
A profiterole is basically a cream puff. In this case, it was shaped like a drunken swan with an upside-down head, gliding on a brush of raspberry coulis.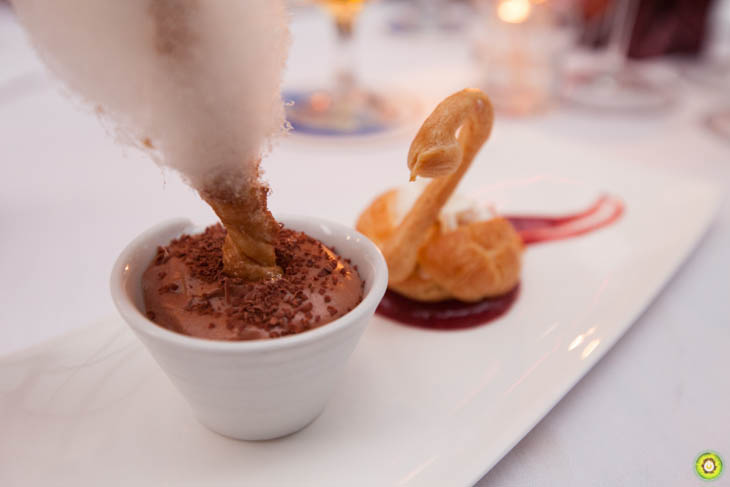 The mousse tree was so adorable! The bush was made of cotton candy; a crunchy sweet stick served as the trunk; the mousse simulated the dirt. It was a very playful dessert that also delivered great texture and flavour.
For my final drink, I got a Decaf Latte. I really wished that I got any other form of latte art besides Diglett from Pokémon. Oh well, I guess it's not a specialty coffee shop like 49th Parallel.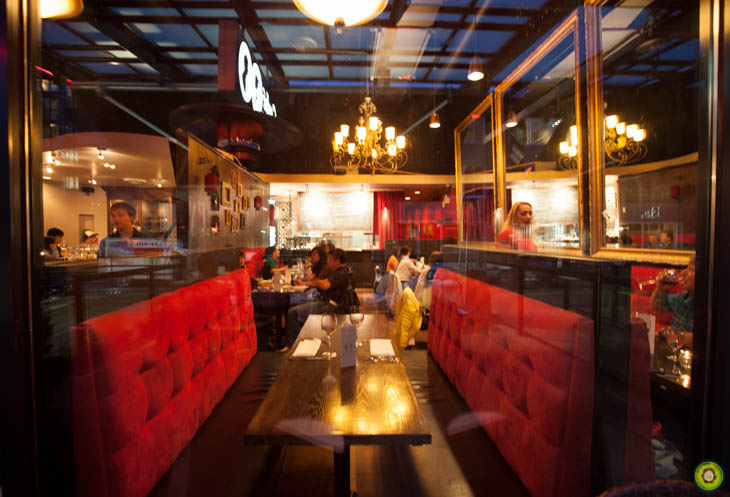 It was a phenomenal night filled with fantastic food and comical conversations. I know that I'll definitely return to this Yaletown gem. Caché Bistro is open for dinner and weekend brunch. They also offer a Chef's Table that's available by reservation with a minimum of four people.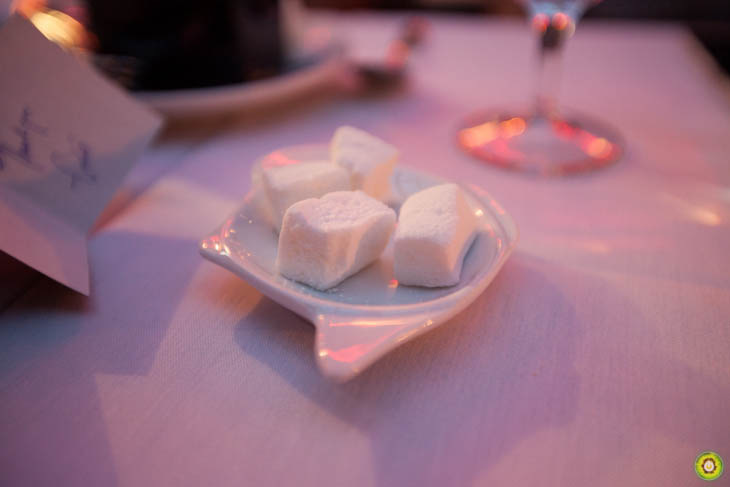 Did I mention that they make their own marshmallows?  How cool is that?!
---