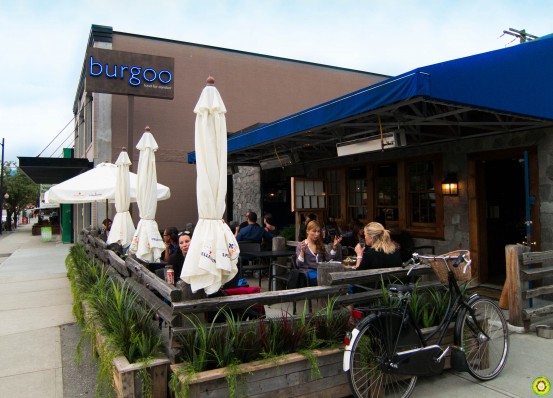 Burgoo's slogan is short and simple: Food for Comfort. And they definitely deliver! Burgoo itself is an actual dish, being a spicy meat stew that is similar to Irish or Mulligan stew. I've driven and bused by Burgoo many times, and I finally decided to try it out with Gigi (who ditched Vancouver for Toronto!) on midsummer's day!
The menu is very unique in that it features a spectrum of dishes from around the world. Beside each dish, there's a country of origin – culinary inspirations drawn from France to Kentucky to Vietnam!
To hit us off, we ordered the Porcini Arancini ($8), which are balls of risotto, porcini mushroom and parmesan that are rolled in Panko (Japanese bread crumbs) and deep-fried! By itself, the flavours encased in these crispy orbs work so harmoniously. However, the lemon aioli really brightens up the flavours with its acidity while imparting some heat.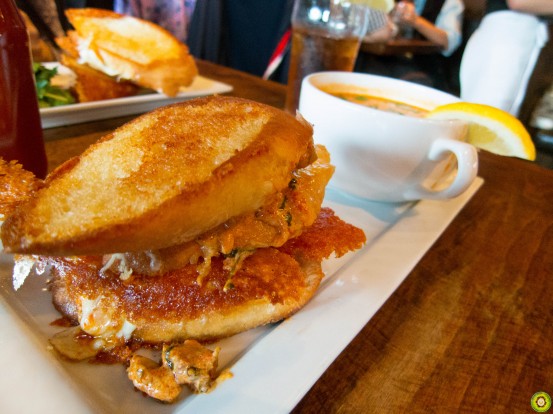 After much deliberation (and I really do mean MUCH deliberation), I settled on the Dos Diablos w/ Crab Bisque. Typically, you receive salad as a side but I decided to go with the soup and sandwich combo ($15) because I was suuuuuuper hungry!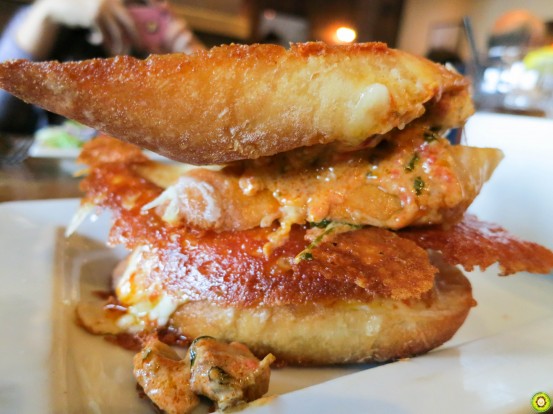 I was REALLY surprised at how much food there was on the plate! Those two stacked sandwiches were positively massive!
Inside, there's melted spicy white cheddar, chunks of Chorizo sausage and roasted red pepper. This, without a doubt, is food for comfort. The melted cheese goodness with occasional heaty punches from the Chorizo will certainly put you into a food coma.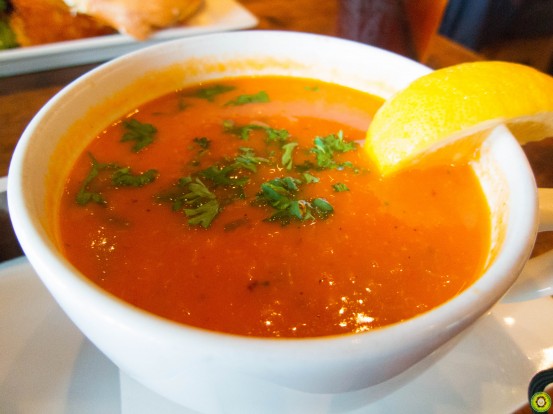 When you're ordering these cheese-stuffed sandwiches, I wouldn't recommend ordering the super creamy soups like the Seafood Potage. So I got the Crab Bisque: smooth crab and red pepper cream bisque scented with tarragon, finished with chopped parsley. Yes, it's a cream bisque; but it's surprisingly light and bursting with vibrant flavours, especially if you squeeze the lemon in it (that's a first for me). I felt that the soup really gave me a break from all the heaviness of the cheese, and it was actually my favourite dish of the entire meal :) Although, I did wish that it had more crab in it!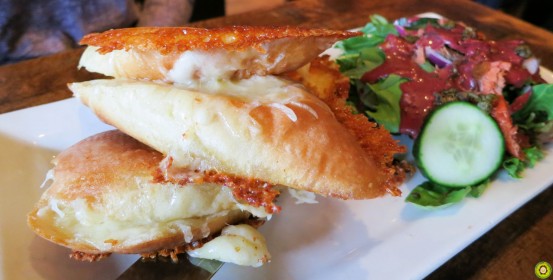 Gigi, again after much thought, chose the Gooey Cheese Grillers ($12): two grilled angle cut filone with melted Mozzarella, Gruyete, Emmenthal and white cheddar. It came with the Summer Greens Salad as a side.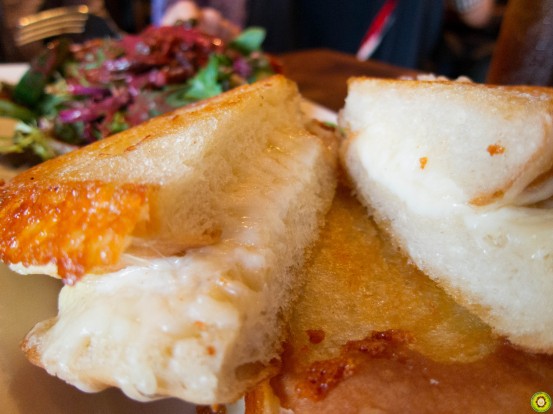 It was oozing with cheese! Unfortunately, because I'm not a cheese expert, I felt that all the cheese just meshed together and produced a one-noted flavour. And because of this, two sandwiches were simply too heavy and too much (and a little boring to be honest).
The salad was pretty refreshing; the house-made blackberry vinaigrette cuts through the richness of the cheese very well. I really liked the maple smoked wild salmon. It really did smell and taste like I was inside a maple tree :)
The entire experience was fantastic, especially with the super friendly service. Our waitress, in particular, was very knowledgable about all the dishes. Her greatest attribute was honesty: she actually told us that she didn't like the Chicken Vindaloo and that,
If you're going to eat at burgoo, you might as well eat what they do well.
The interior is really comforting, a perfect suit for the food they proudly serve. They also have a heated patio.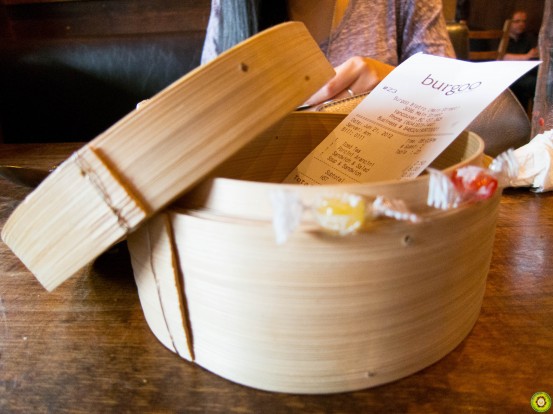 Did I mention that they deliver your bill in a dim sum box? :P
Final Bytes
Swap sandwiches with your buddies for variety!
They have daily drinks and summer beers!
Cheap street parking ($1/hour)
Foodobyte's Rating

---