It was a crisp, cold night when my girlfriend and I decided to try out a recently opened 車仔麵 (cart noodles) restaurant in Richmond:  Bubble Waffle Café.  I've eaten here before with my dad, and I didn't exactly love their "spicy soup base."  But, I thought I'd give the place a second try and order something different!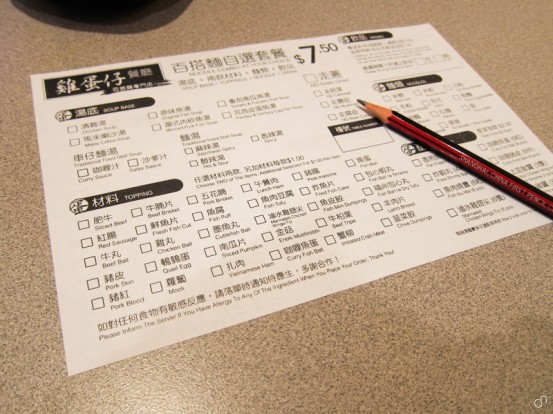 When you're seated, waiters quickly pour you some hot tea (superb on such a chilly night) and hand you a dim sum style order sheet.
For $7.50, you can pick:
Soup base
Noodle type
2 toppings (+$1 per extra topping)
Hot drink (+$1 for cold drink)
After minutes of deliberation, we ordered two bowls of cart noodles, a plate of deep-fried chicken wings, and who could forget… bubble waffles!
My girlfriend's steaming bowl came first; she ordered vermicelli noodles with chicken stock soup base, topped with beef brisket and turnip.
My first thought when her bowl arrived was, "Wow, that's a lot of veggies."  I didn't think the same about the beef though… Apparently, there were only 4 measly slices of beef brisket.  Emphasis on "slice" because beef brisket is typically served as finger-sized chunks – so these 4 pieces were especially dinky in size.
On the bright side, the noodles were delightfully bouncy :)  As for the soup base, it was as it should be – simple chicken stock – a good pick if you're looking for a light, clean flavour.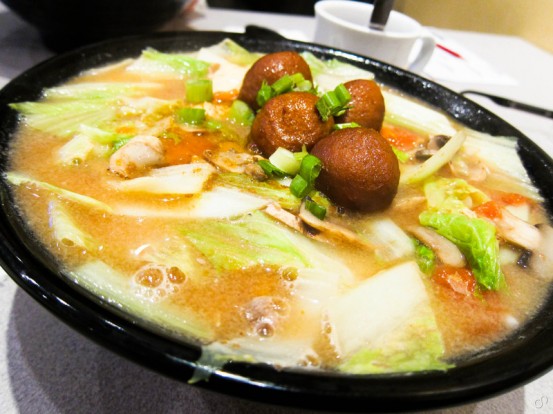 Shortly after, my piping hot bowl of noodles arrived!  A fan of bolder flavours, I chose the tomato & pumpkin in fish soup base with vermicelli.  And since I was so hungry, I decided to spoil myself with 3 toppings:  beef brisket, sliced beef, and curry fishballs!
Whenever a bowl of noodles glides down infront of me, I automagically try out the soup!  The first few sips tasted pretty good – only the first few though.  Soon, a strong MSG flavour filled my mouth and I stopped slurping the soup.
Nonetheless, I didn't let it ruin the rest of my meal :)  Although the curry fishballs didn't look like curry fishballs at all (honestly, just look at them O.o ), they still tasted awesomely curry and were quite bouncy!  As for the sliced beef, it was far better than the beef brisket, like night and day.
The chicken wings were freshly fried, which makes a huge difference.  Every wing was just perfectly cooked, so it was hot and oozingly juicy!  Although, it would've been even better if they used a couple pinches less of salt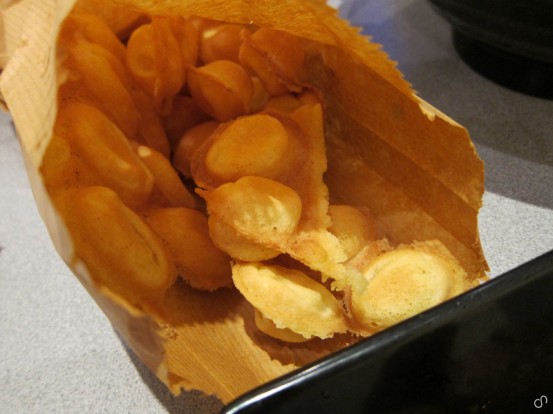 Now for the Pièce de résistance!  BUBBLE WAFFLEEEEE!  Ever since I was a little kid, I absolutely loved these round puffs of eggy goodness!  After it arrived, it wasn't long until half the bag of yumminess was gobbled up by yours truly and I thought, "Hmmm… maybe I should leave some for my girlfriend.  Yeah, I'm so considerate and awesome."
And another thing!  If your bill is $15+, you get a free bag of bubble waffles!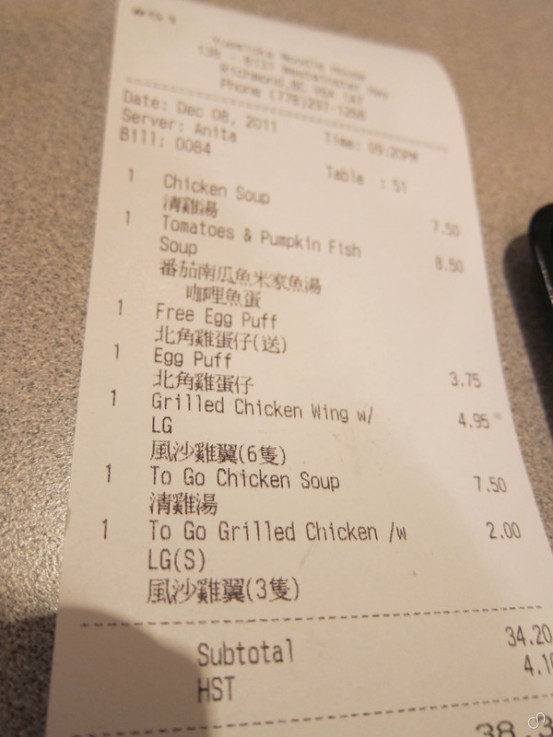 All in all, it was a decent meal :)  One thing you must keep in mind is that this is 車仔麵 (cart noodles)!  This is Hong Kong's street cuisine, so it's not meant to be super fancy food.  Rather, it's simple and honest comfort food to share with your buddies.
Foodobyte's Rating

---