Sometimes it's just too hard to wake up in the morning. I'm pretty sure that's the sole reason why brunch was invented in the first place… for us lazy loungers who burrow in our beds despite the roaring ringtones of our alarm alerts. Another issue with the first meal of the day is the debate of what to eat… Oatmeal? Bacon? Avocado plus squirts of sriracha?
Lucky for Kiely and I, we were invited to the Mount Pleasant and Main St Brunch Crawl, presented by Vancouver Foodster and the Dine Out Vancouver Festival! It's a roaming food tour that had all the restaurants laid out. We picked up our tickets at registration, and off we went to restore our depleted glycogen stores after a night of fasting.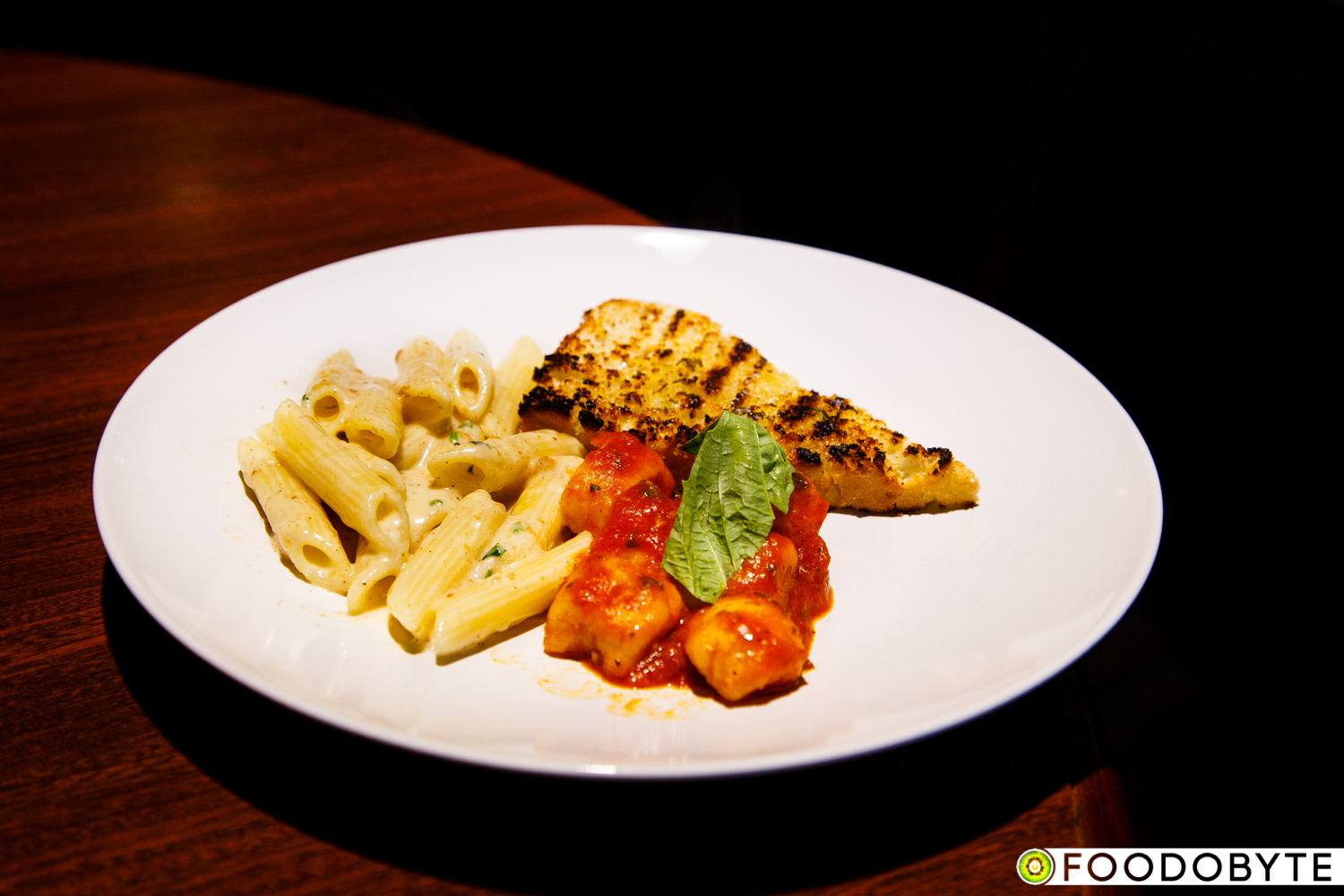 The first stop was Italia Bella Bar. Service was quick here; I barely had time to adjust my camera to the restaurant's lighting before the food landed on the table. However, the tomato sauce gnocchi and penne alfredo tasted very standard. It wasn't bad, but it wasn't great.
If Italia Bella was standard, then 12 Kings Pub was the complete opposite. I never expected this kind of food to come out of a pub kitchen.
Left: Yorkie Bennie, a classic eggs Benedict served in a fresh yorkshire pudding and topped with crispy bacon. This tasted awesome. And the fresh yorkshire pudding?! I don't think I can have a regular english muffin again. Holy. I would definitely order this again! The only downside was that the egg was overcooked… so no oozy yolk. Although, I attribute that minor mistake to waves of people coming in and eating the same dishes.
Middle: Mini Chicken & Waffle. It was served with some maple syrup and gravy, but I accidentally spilled the sweet stuff :( I managed to sadly dab my chicken in the remaining pool of syrup and gravy. Still, it tasted great as a whole. Plus, the chicken and waffle were crisp-p-p-p-pee!
Right: Boozy Fruit Taco. The fruits were fine, but the taco was just a no-no.
12 Kings also served a Nitrous Stout, which only Kiely had since I was driving. It looked super cool when the black liquid settled as the nitrous foam dissipated.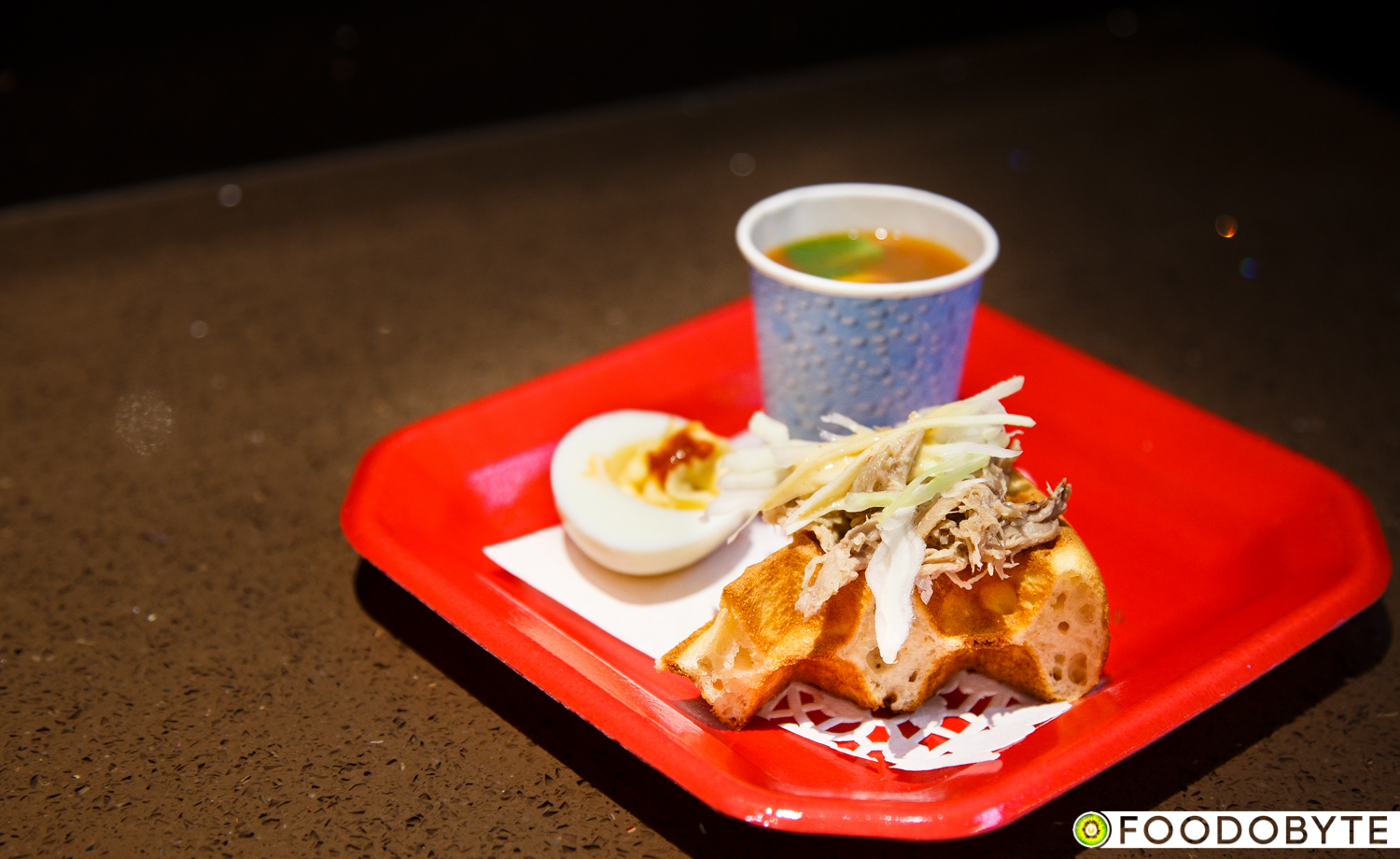 Miura should take some lessons from 12 Kings when it comes to waffles. As usual, Miura's waffles were soft like white bread… This didn't help the fact that the Pulled Pork and Coleslaw w/ Carolina BBQ was unremarkable.
The Kimchi Devilled Egg was okay though.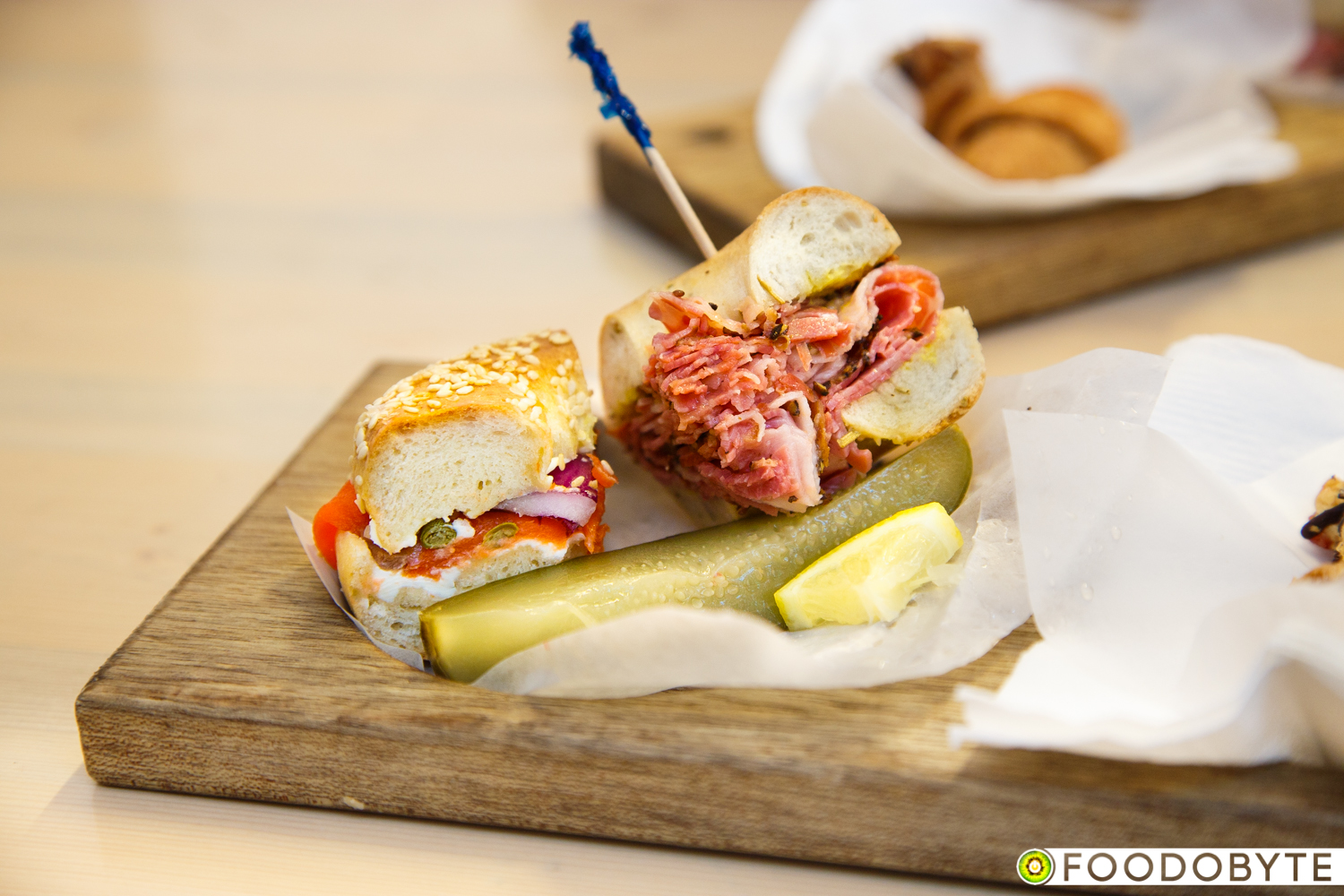 Right next door to Miura was Rosemary Rocksalt. They served Montreal Smoked Meat on a Rosemary Rocksalt Bagel and Lox w/ Cream Cheese on a Sesame. My favourite was definitely the smoked meat – I loved the peppery and salty flavour.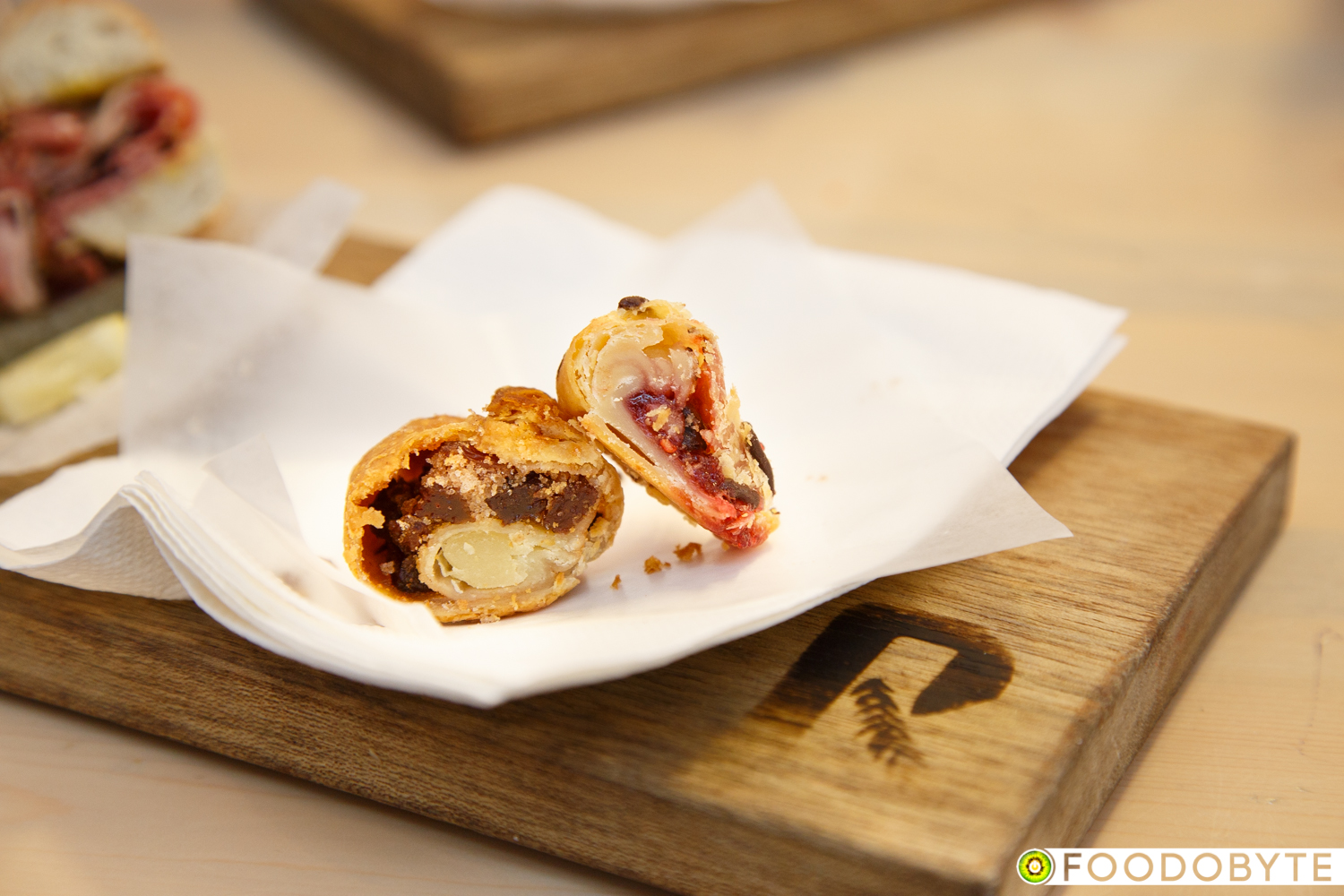 RR's buttery rugolach pastries were quite good as well. The two flavours were Cinnamon Raisin and Raspberry Dark Chocolate.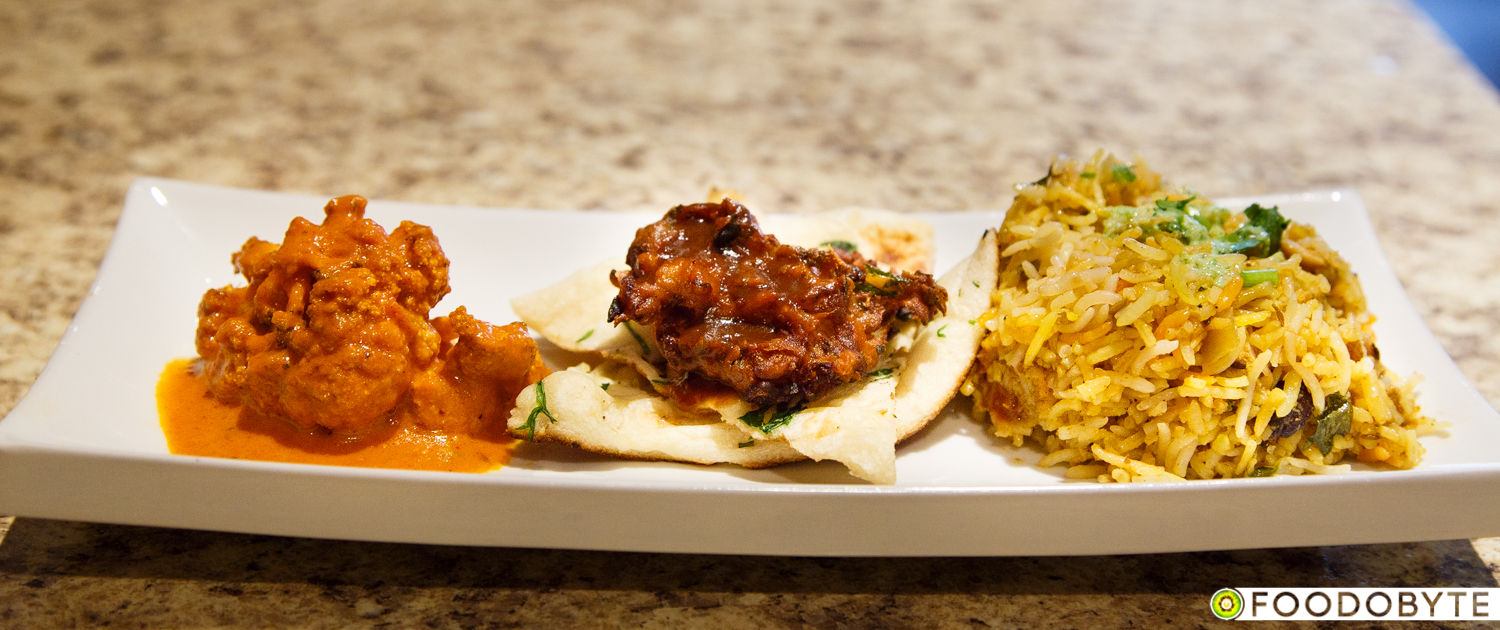 It was my first time at Nirvana, and I'm glad that they were part of the tour.
Left: I think it was cauliflower in a butter chicken-ish sauce? The menu didn't say, but I say it tasted good!
Middle: the Vegetable Pakora tasted like a deep-fried veggie tempura. How could you go wrong with that? The dish also came with Garlic & Cilantro Naan that I used to wipe up the rest of the butter chicken-isn sauce.
Right: Spicy! The Chicken Biryani was flavourfully addictive!
East End Chai recently opened within the last couple of months. Aside from teas and small eats, they also sell clothing, jewelery and more. They figured that it would be nice for customers to browse and shop while waiting for food.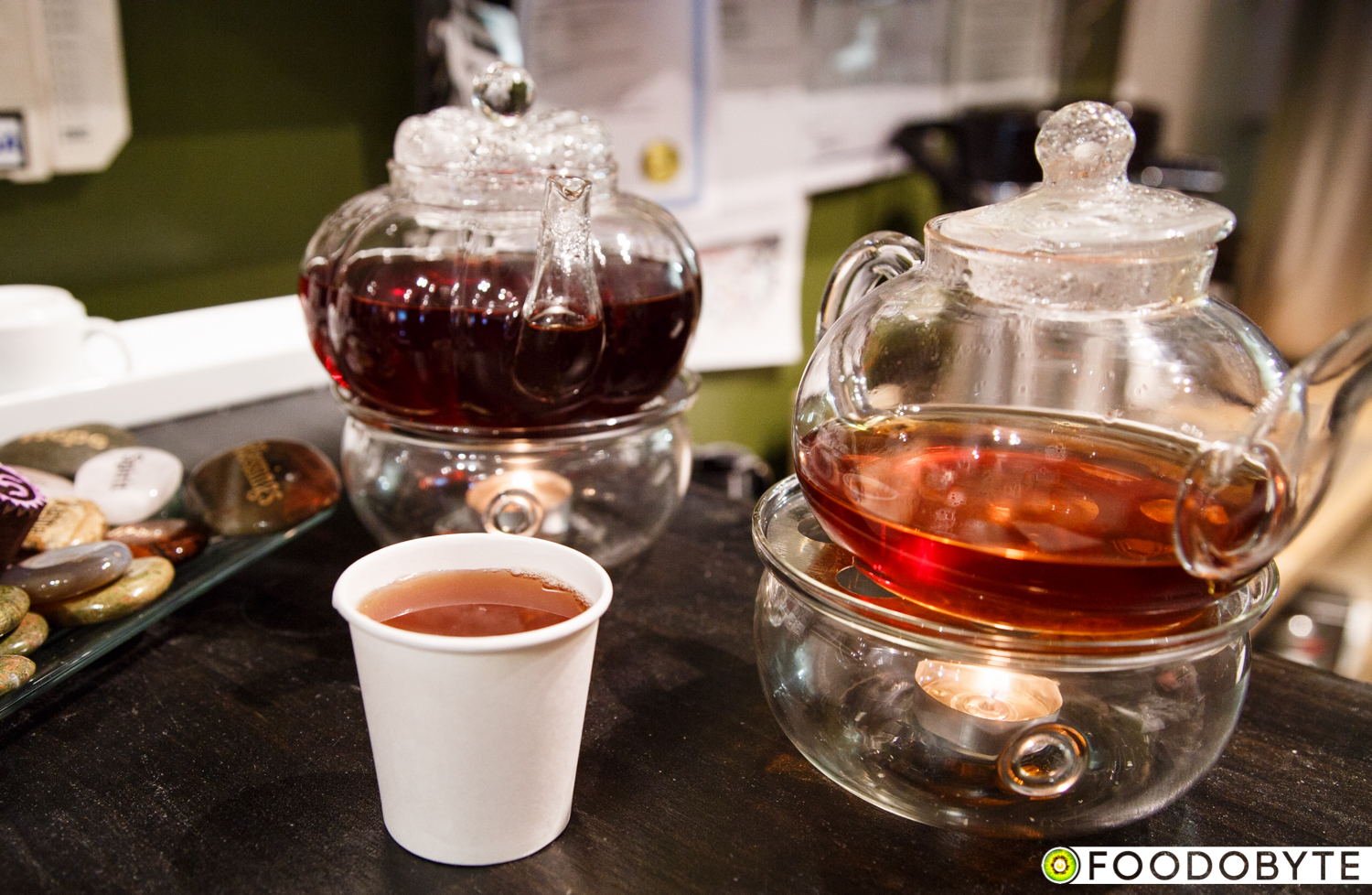 There were three teas: Masala Chai, Ginger Chai and Chocolate Tea. Surprisingly, my favourite was the chocolate! It smelled and tasted deeply of chocolate. Yet, it wasn't rich or sweet. It was kinda weird, but an interesting experience nonetheless.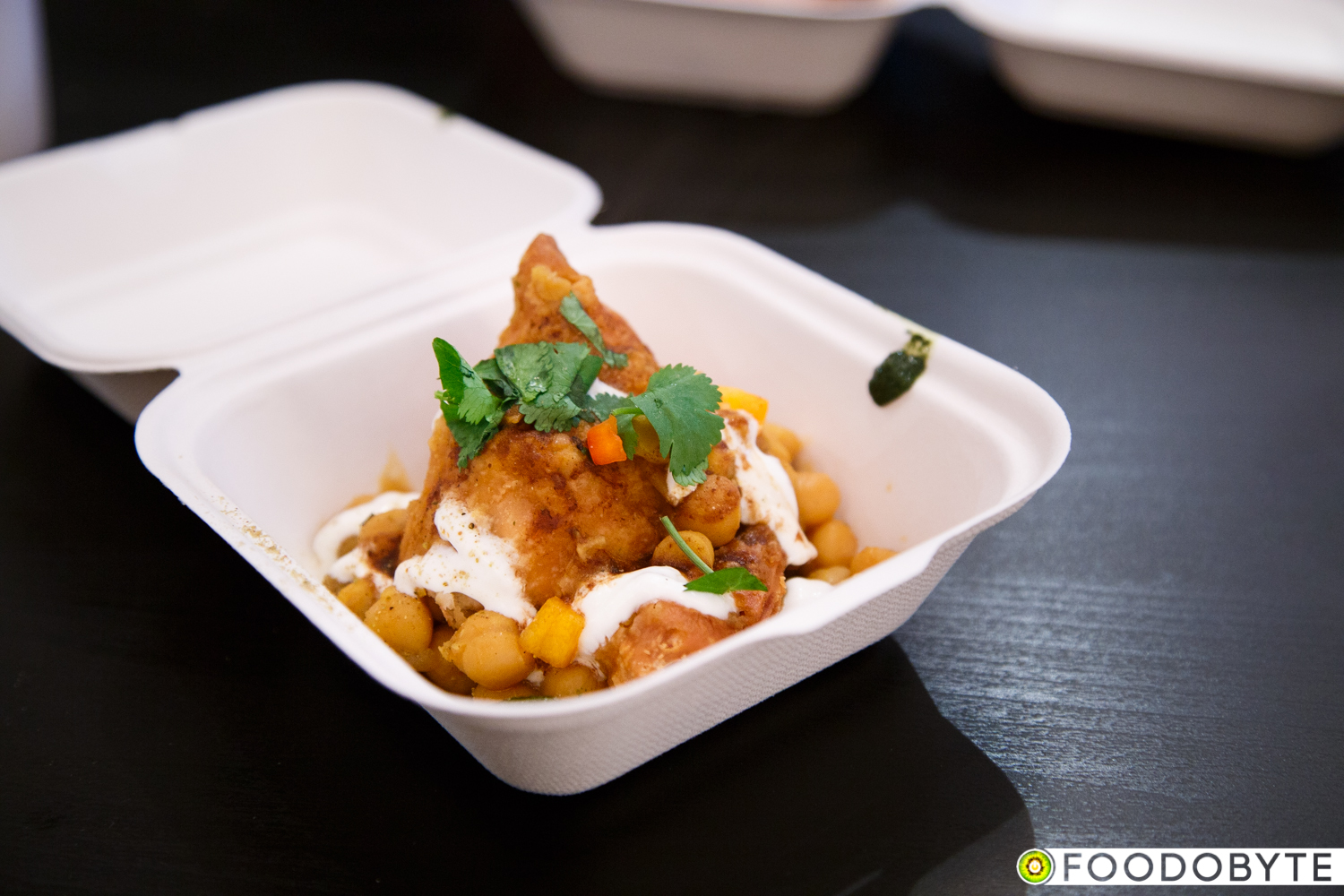 By this point, I was stuffed… I tried to eat most of the Samosa w/ Channa and Mint & Tamarind Chutney. Of the bytes that I had, it tasted really good, especially with the chutney.
Our last stop was Radicle Juice. The best was definitely saved for last.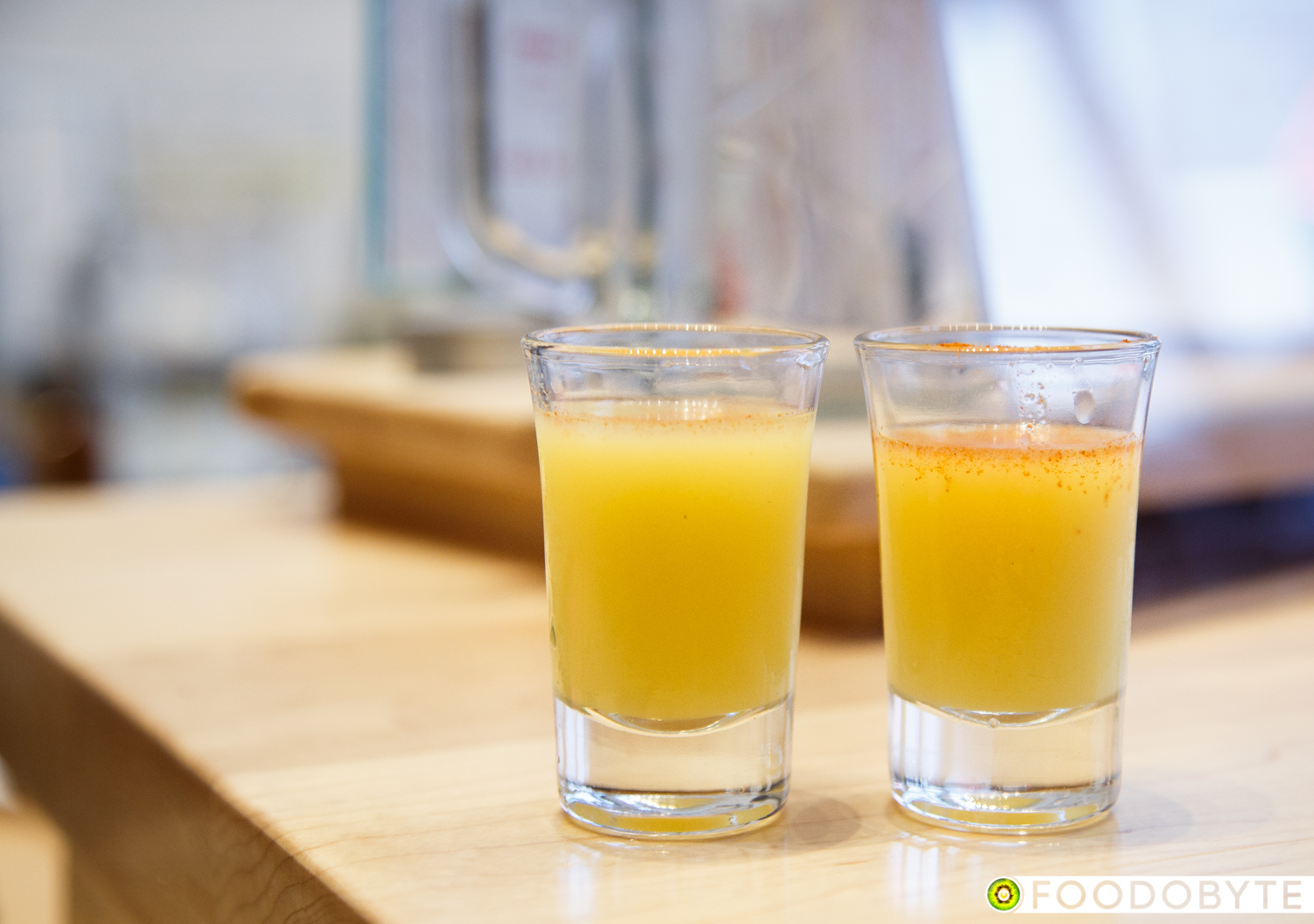 To kick things off, we had a Heat Shot, which was composed of ginger, apple and optional cayenne. It tasted sweeter than I expected; definitely nowhere near as intense as the Kicking Horse at Krokodile Pear.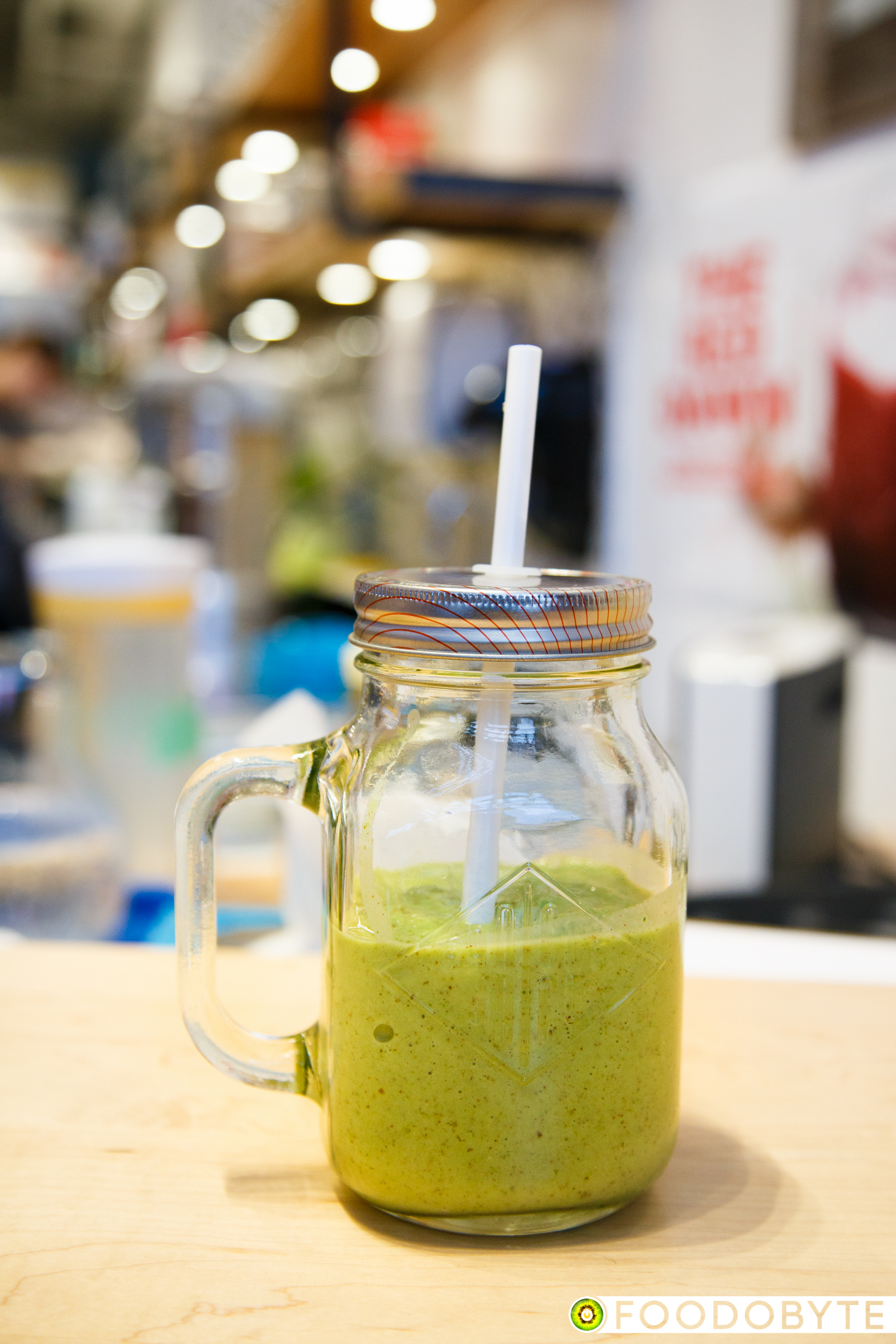 The Knockout was a knockout indeed! A smoothie blend of chia, date, cinnamon, kale, almond butter, banana and almond milk… delicious! I would return just for this! Plus, we got to keep the radicle tumblr, which saves us $0.50 on future drinks.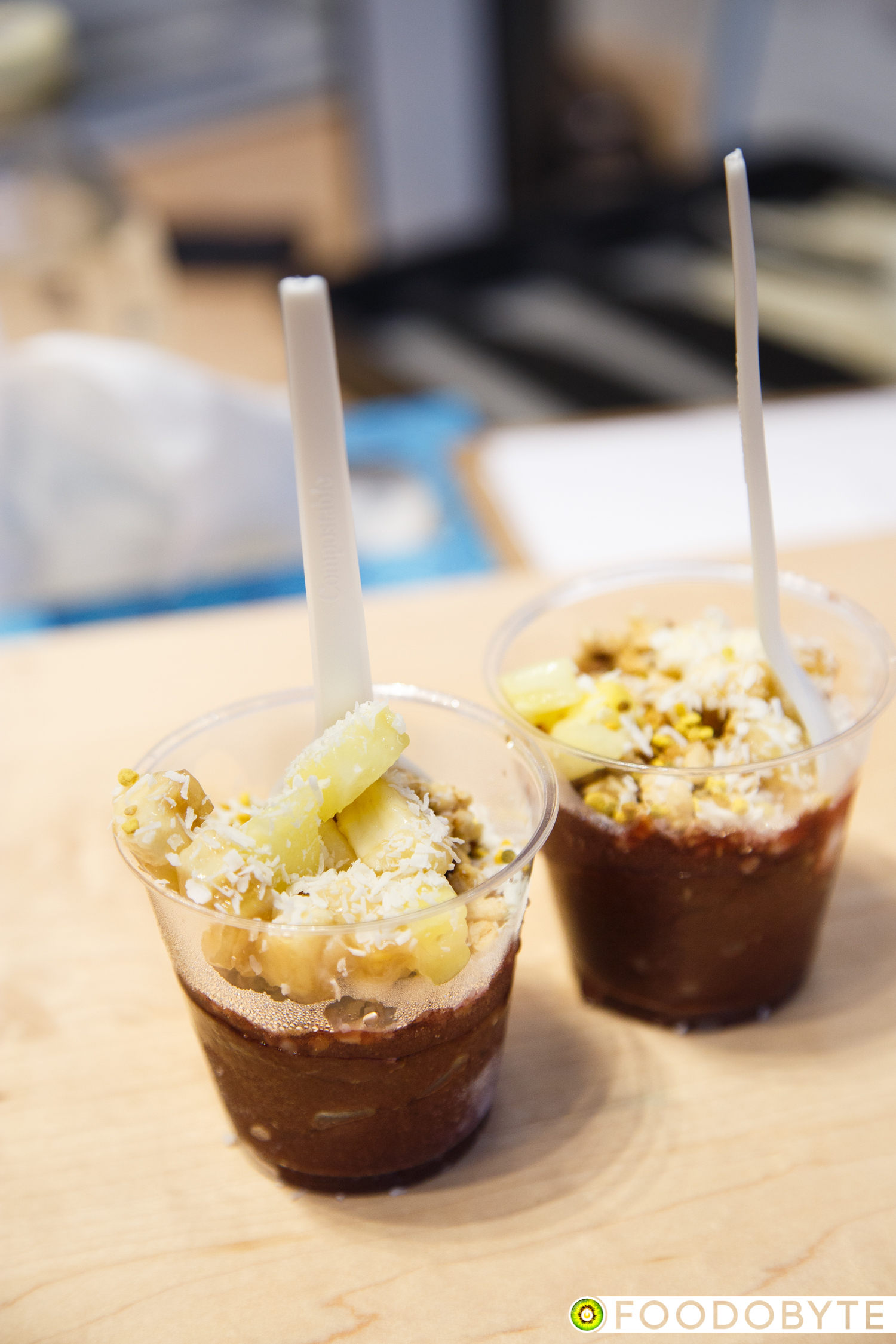 Finally, we finished off Brunch Crawl with a Mini Island Acai Bowl. Chilled, the bowl was filled with a coconut oil and banana blend, topped with coconut flakes, pineapple, bee pollen and granola. What a wonderful mix! The pineapple definitely perked up my tastebuds.
This was my first Brunch Crawl ever, and I thoroughly enjoyed it! I can't wait until it returns next year! :)
Disclaimer: my Brunch Crawl ticket was complementary, but all views expressed are my own.
---