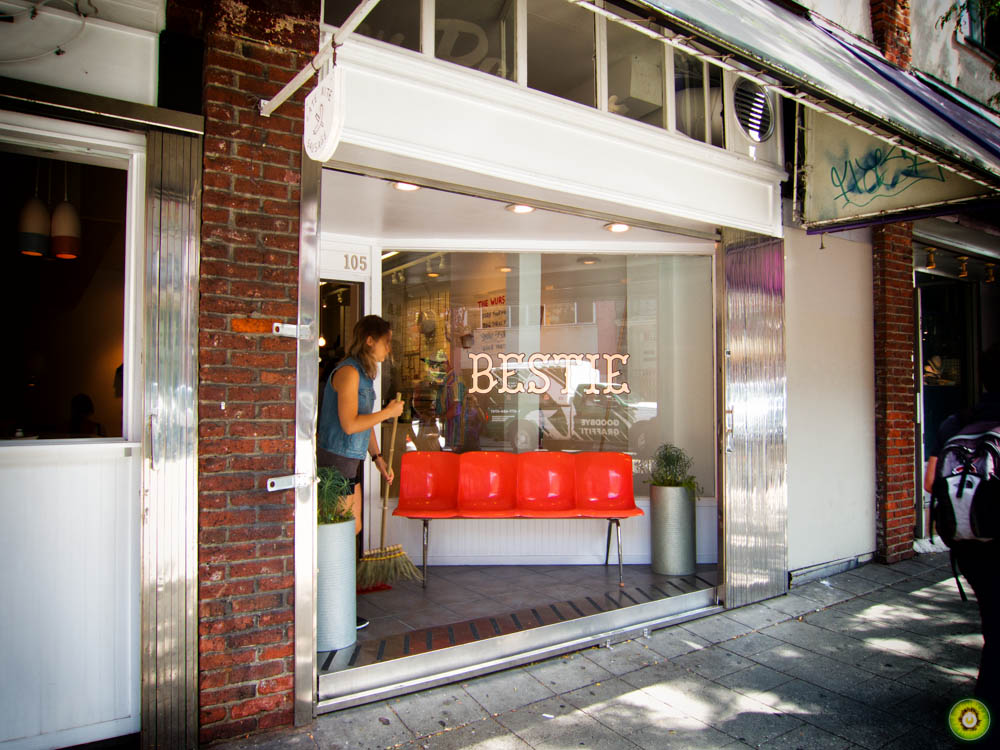 It's 5AM and I literally can't fall asleep. There's just something about editing papers that drives your brain into a relentless chase… For what? For that elusive hour of sleep that becomes even more unattainable as you get even more riled up. But I digress… I should be talking about the wurst sausages in Chinatown. No, not worst. WURST – the German sausage, now sold at Bestie. Read on to see how I ironically have a sausage fest with The Food Queen and Eating With Kirby (joke/pun credit to The Food Queen)!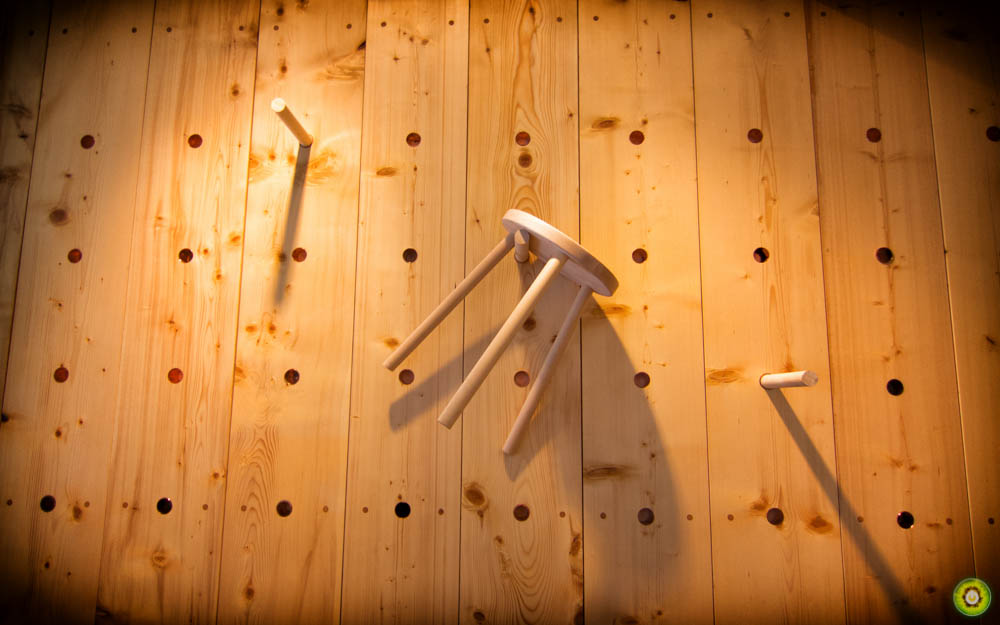 Boom! Chair on the wall. Why not? Have you yet to master the art of levitation? Get on it here: http://www.wikihow.com/Levitate
Hipster drinks all the way! Bestie's got Spiffy Cola, Kiss, NuGrape and more. These bubbly sodas are so hipster that I've never heard of any of them.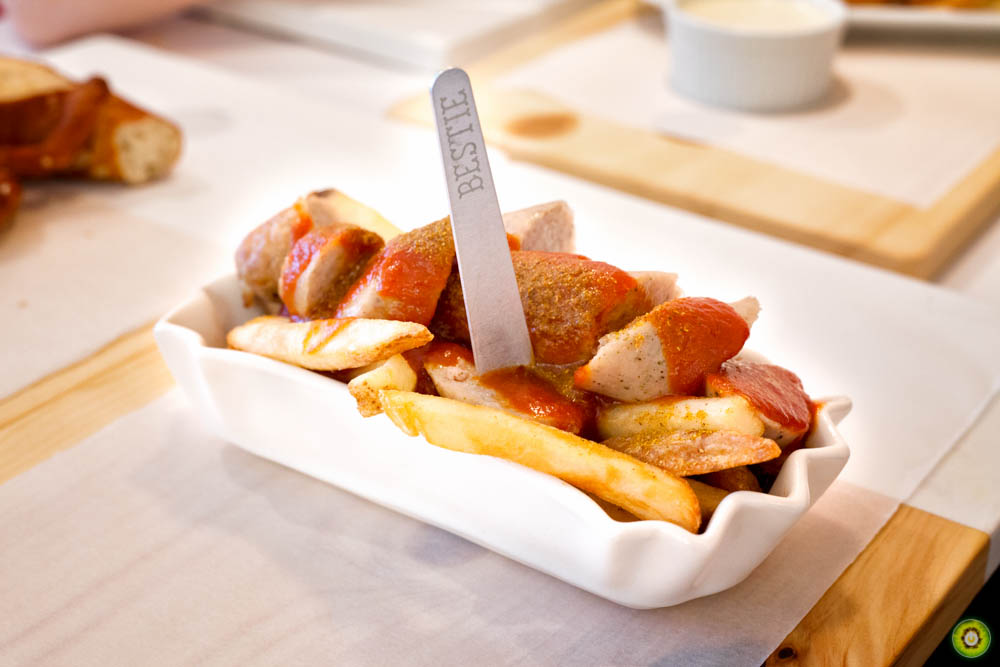 Currywurst. Honestly, I can't be the only one who thought that there would be actual curry.
Anyway, The Food Queen and I had ours made with the Classic Pork Thüringer ($8). Like all of the sausages at Bestie, this one is all natural (although I'm not quite sure what that means, since the term "natural" is not legally regulated). It had a medium-crisp casing that was slightly chewy. Flavour-wise, it was flavourful. How else am I supposed to describe it, besides the fact that it tastes like a savoury pork sausage… but you already knew that.
Okay, here's the down low: very moist inside, yet not greasy. LOL, I just realized that it's "low down" and not the reverse. The spiced ketchup was an absolute winner. It was sweet, but not sickly sweet, and well-seasoned.
Best of all, everything's cut up for me so I can eat one-handed with that tiny Bestie-engraved fork.
It's a foodie's unofficial duty to order as much food as possible, which was why I also ordered the Pretzel & Mustard ($3.5). There's actually two mustard sauces: the dijon popped with sweet granules while the spicy horseradish one inflamed my nose.
The pretzel itself had a very hard exterior. I would've liked it softer so it would be less taxing on my jaw. Oh yeah, the pretzels are house-made.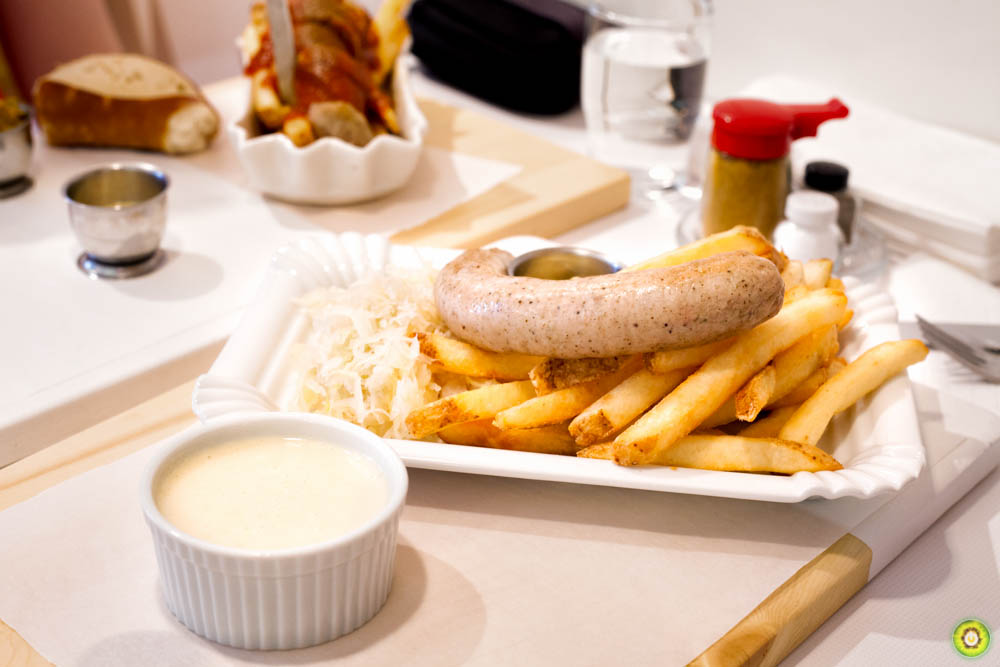 Kirby ordered the same sausage as me, but with stinky cheese sauce and a side of sauerkraut.
In spite of its off-putting name, the cheese was not stinky! It was quite mild and not overly viscous. It was just thick enough to coat whatever you're dunking – not grossly synthetic like Cheez Whiz.
The sauerkraut was served warm, which mellowed out its characteristic acidity. I thought it balanced out the dish since you can bounce between savoury and sour.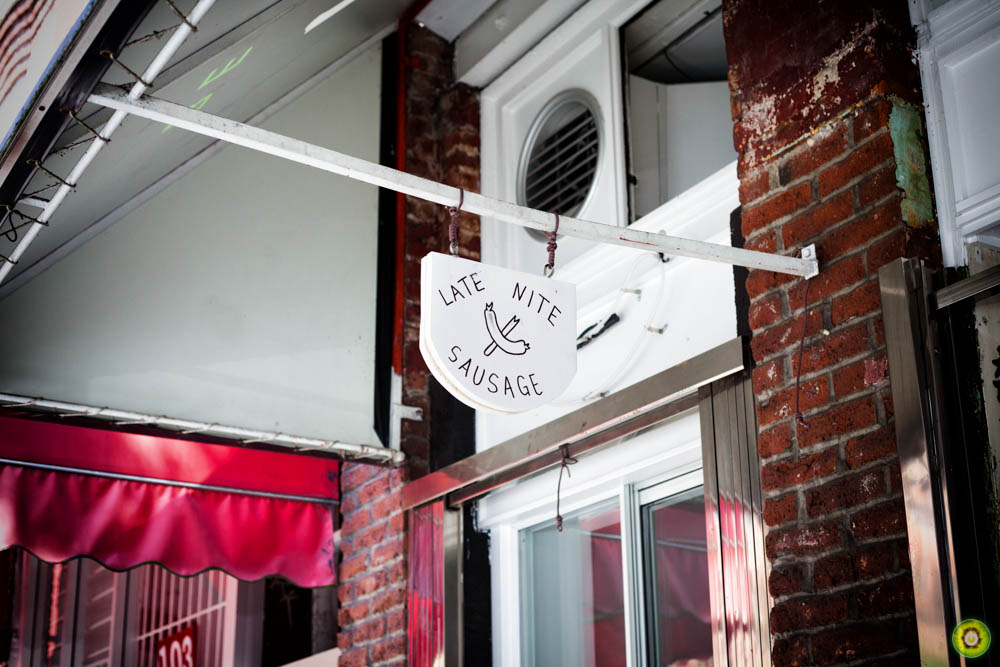 If you're craving some late night sausage, Bestie's serving it up through a window until 3AM on Fridays and Saturdays.
Final Bytes
Great wurst! Haha, whatta oxymoron.
Portion size of the wurst is quite small
Holy crap, the sun is rising (5:29AM)!
Foodobyte's Rating

---