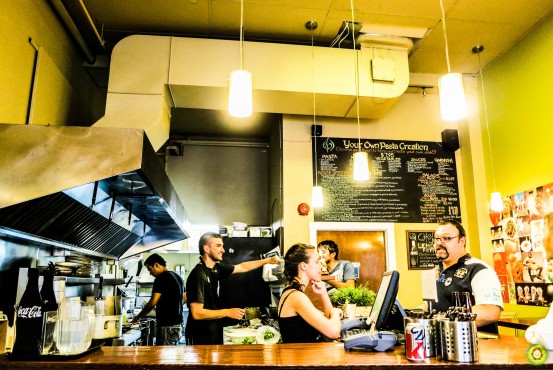 A group of friends and I were heading down to English Bay for the Celebration of Light. The day that we went, it was Brazil's turn to wow us with thundering and explosive fireworks… and Brazil absolutely did! Omg, so much better than Vietnam, which had the not-so-vietnamese soundtrack "What Makes You Beautiful" by One Direction.
Anyway, we wanted to grab some dinner before we dove into crowds upon crowds of people already sitting on the beach since the early afternoon. Thus, we dropped by Basil Pasta Bar on Davie St.
You strut your stuff up to the counter, and then you have two choices:
1.  Order one of the house special pastas ($7.95)
2.  Or, design your own pasta creation by picking the pasta, meat, veggie, sauce and garnish! There's also no limit on the number of toppings you want!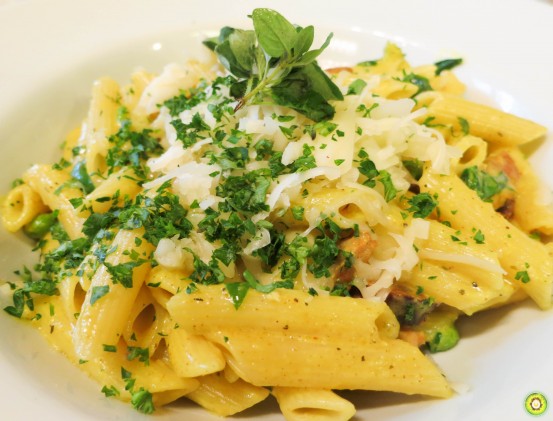 I decided to go a bit more creative and created my own pasta combination. I wanted to build my pasta so that it would suit the house special sauce, which was Curry Cream. So, I put together Penne w/ Chicken & Chorizo. As for the veggies, I selected Spinach, Peas, Garlic & Broccoli topped with Mozzarella and Fresh Basil, Parsley & Oregano. All this for only $7.95.
I was really taken back by how good the pasta looked! The curry was pleasantly aromatic. For first impressions, this pasta hit a home run!
When I dug in, however, I found that the curry flavour was a bit weak. Although, when I just added some salt and pepper, the flavours intensified right away. The pasta was cooked well and the diverse toppings really made it more interesting than traditional pastas. I especially liked the chunks of chorizo that gave a bit of a kick! The only complaint I can make was that it needed more sauce!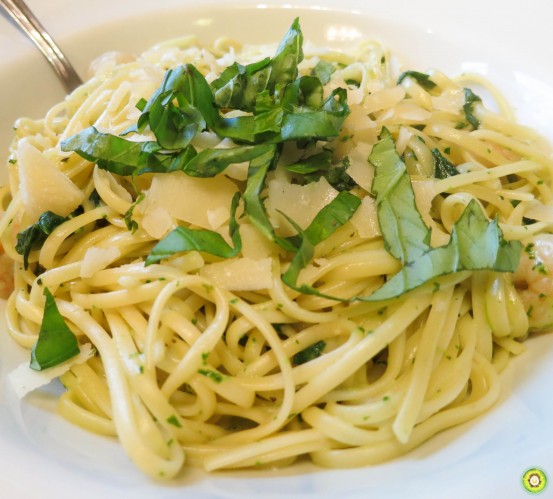 Kevin went with one of the house specials: Pesto Shrimp Linguine, which featured pesto cream sauce w/ shrimp, spinach and white wine garnished w/ basil and parmesan. Even though I didn't taste it, he said it was really good :)
Sam, Kellie and Grace all ordered the same thing: BC Smoked Salmon Fettucine in an alfredo sauce cooked with red onion, capers, tomatoes and spinach. Since all three of them cleaned their plates (and how Sam kept boasting about how his pasta was superior to mine and Kevin's), I'm assuming that it was superb as well.
If you're heading down to the Italy fireworks tonight, this is a great place to grab a quick meal before you scour the beach for a spot to sit! You could also order takeout and dine on the sandy beach, the moonlight as your romantic candle.
Final Bytes
Fresh ingredients for a great price!
Seating is arranged for 2-4 people, but you can make reservations like we did!
There's combos like Pasta + Soup + Drink for only two or three dollars more!
Foodobyte's Rating

---