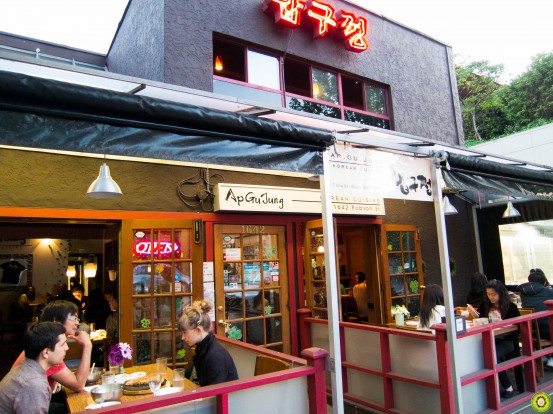 KOREAN FOOD! At last, I've finally found a Korean joint that (hopefully) doesn't sell instant noodles for $7! If you haven't heard of my tragic experience at my ex-favourite Korean restaurant, click here.
Anyway, I was super excited to finally eat some authentic Korean food! Like Jason says,
[quote]You know a restaurant is good when people of the same culture go there to eat![/quote]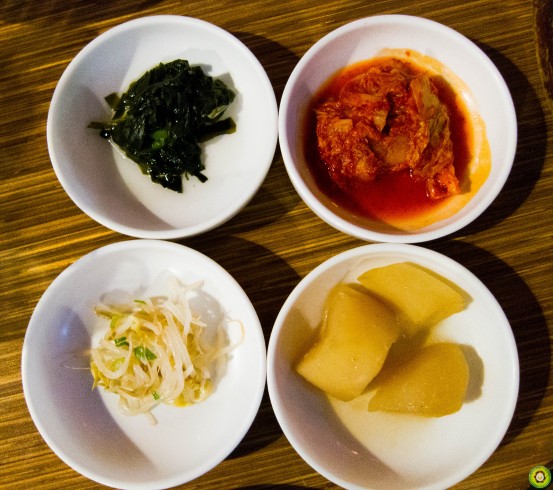 After placing your order, you get the traditional Korean appies: kimchi, bean sprouts, sweet potato and seaweed. I didn't really touch these because they came after our entrees. When I did pick at them, they just tasted as they should :)
I ordered my favourite dish of all time since I first tried it in New Jersey: Soft Tofu Hot Pot w/ Assorted Seafood! Swimming in the steaming broth are squid, shrimp, green onions, a poached egg and soft tofu (and more that I can't remember). It also comes with a bowl of steamed rice on the side.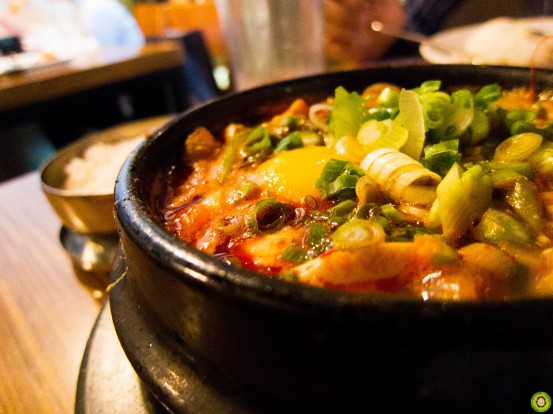 Although it had 2 chillis listed beside its name, the tofu hot pot wasn't spicy enough for my liking. Nevertheless, it was still super flavourful! If you order this, be sure to break the egg yolk and stir as it gives the broth a deeper richness in flavour and texture. Every time I order this, I love scooping a bit of rice and submerging it in the broth, then I pack on some seafood and tofu… yum :) The only other complaint I have about this dish is that it wasn't really "assorted" seafood because it was mostly squid. I can honestly say that it only had ONE shrimp. Still, I would order this again and maybe mention the squid problem :P
Next is a Korean Pancake that Alexia ordered. O-M-G. I've never tasted anything like it! It had a super nice crunch with a soft and doughy filling. And it didn't tasted greasy at all, even though the dish looked pretty shiny.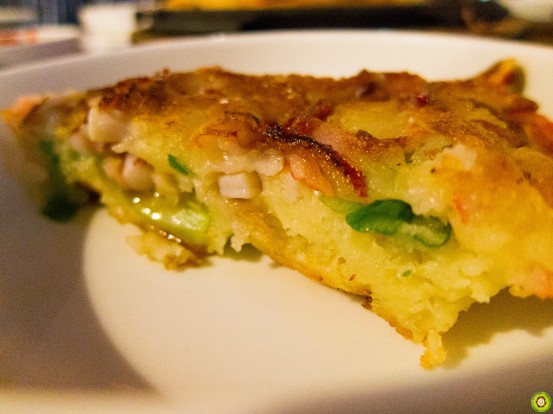 Inside the dough was a lot of squid (again) with some spices, herbs and green onion.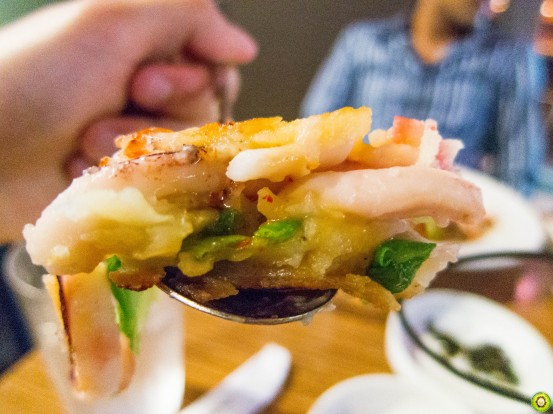 This tasted really awesome, no joke. I would definitely order this again. I actually enjoyed this more than my tofu hotpot!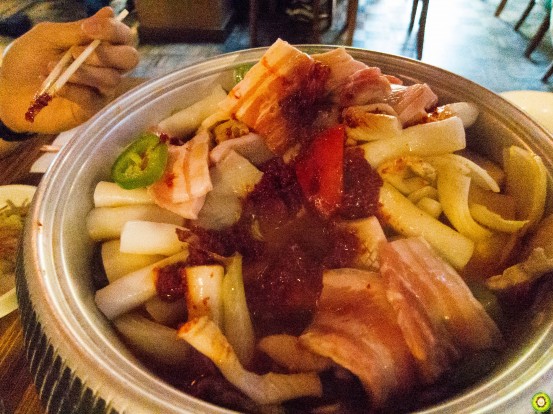 Nick ordered a Korean Hot Pot that was fit for two, literally. I LOL'd when I saw waiter's facial expression when Nick placed his order :P
Inside the bubbling lava, there was some short rib, lettuce, dough rolls, peppers, and of course squid (the chefs seem to be really fond of their good ol' squid :P).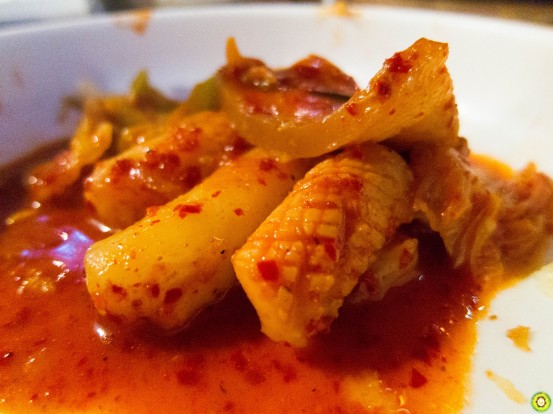 Yes, it looks like it'll ignite your tongue on fire like it's doused with gasoline. But, it was actually kinda sweet and not overly spicy… you can think of it like a sweet thai chili sauce. I only tried the dough roll and squid from Nick's huge pot. The squid was regular; I enjoyed the roll better because it was perfectly chewy but not sticky.
It was a really great experience, and it's quite affordable when you share the big dishes (like the pancake) with all your friends :)
Final Bytes
Ask for extra spicy if you love some more heat!
They only accept 2 credit/debit cards per table … Not sure why?
Huge projection TV that's great for sports!
Foodobyte's Rating

---