T'was a sunny and bright day in beautiful Yaletown. Several kilometres from the Canadaline Station awaited the English Bay Beach. During our adventure toward the sandy land, Joanne and I stopped by The American CheeseSteak Co. (ACC) for some, as Joanne requested, "handheld food."  True to their name, the cheesesteak sub shop gives the traditional philly cheesesteak a contemporary makeover, offering unique variations of the legendary sandwich.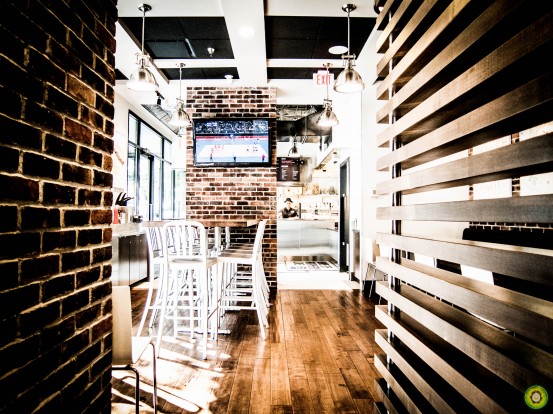 ACC's interior was a perfect balance between ruggedness and elegance, much like their sandwiches. Sleek wood and rustic bricks everywhere. It was a super comfortable and spacious atmosphere.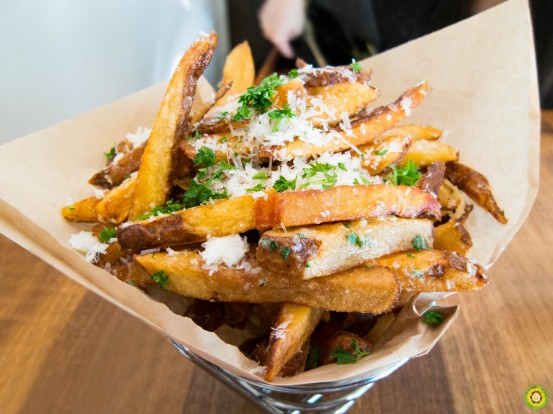 ACC's style of service is much like Nando's: you walk up, order, sit and then wait for your food to arrive. We started off with the ACC Fries ($4 small size), which were tossed with garlic, parsley and parmesan. The thick-cut fries were very aromatic and tasty! Even though it was a step up from regular fries, I thought that some of the fries were overcooked… thus, a bit dry. I'd suggest that you get a dipping sauce ($1) if you were to order the fries.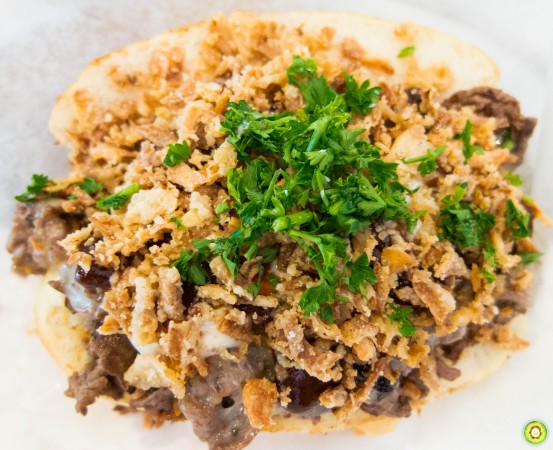 This is an birds-eye view of Joanne's Cowboy ($10 small size)! The shaved prime rib was showered with crispy fried onions and bathed in homemade spicy BBQ sauce, bacon mayo and aged white cheddar.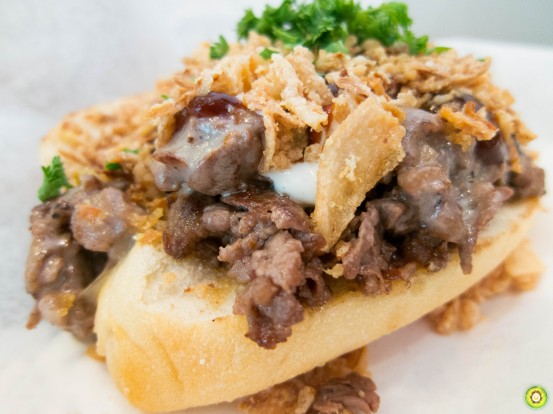 Since it was intensely flavoured, I enjoyed the first couple bites of Joanne's sandwich. The BBQ sauce was sweet with a bit of tang; I couldn't detect the heat though. There was a nice crunch from the onions, providing a textural contrast to the tenderness of the beef. However, Joanne found that the sandwich soon became overly salty… probably because of the bacon mayo and the cheddar.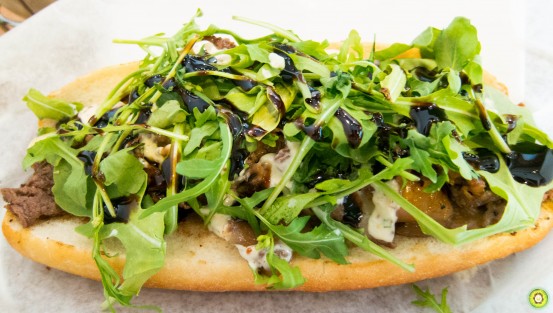 On my side of the table, I had Le Bifteck ($12 large size), which is French for "The Steak."  My sub was extra long, comparable to my… forearm! Underneath the blanket of arugula, there was shaved prime rib, caramelized onion jam, double-cream brie and dijon. I wasn't sure what the black drizzled sauce was, but it was sweet and savoury like teriyaki sauce.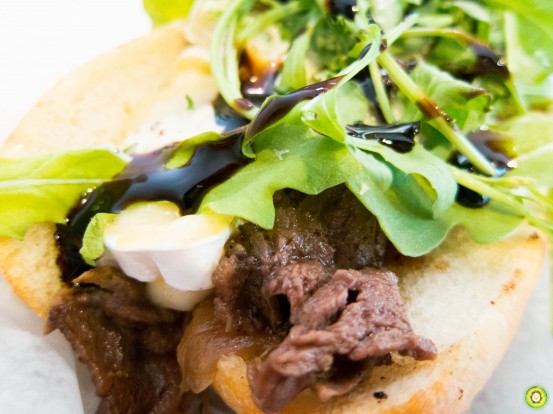 Like The Cowboy, the prime rib was juicy, tender and flavourful. I especially liked the brie… it was ooey and gooey! And the caramelized onion jam did a good job in tying all the flavours together. It was good thing that my sub had the arugula as it helped cut through all that richness, making it a bit more vibrant. Although, I could do without the black sauce on top.
Final Bytes
Only order the large size if you're absolutely starving… it's huge!
Delicious prime rib! Juicy, tender and not chewy!
Good takeout items for the beach nearby!
Foodobyte's Rating

---