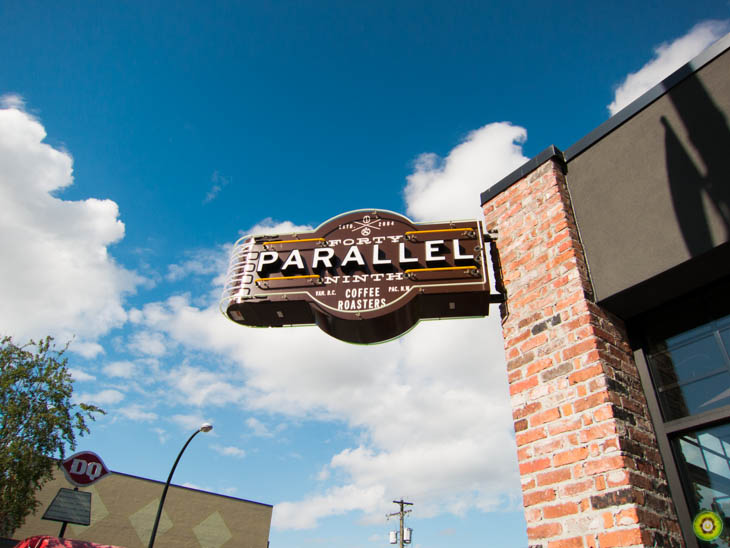 June 7th was National Doughnut Day 2013! When I told hippoCHAN, she asked me if people were handing out free doughnuts… Well, Krispy Kreme is. In Delta.
Nevertheless, I had already pre-planned where we were going to celebrate this joyous occasion: Lucky's Doughnuts! Let us all give thanks to deep-fried goodness and sugar!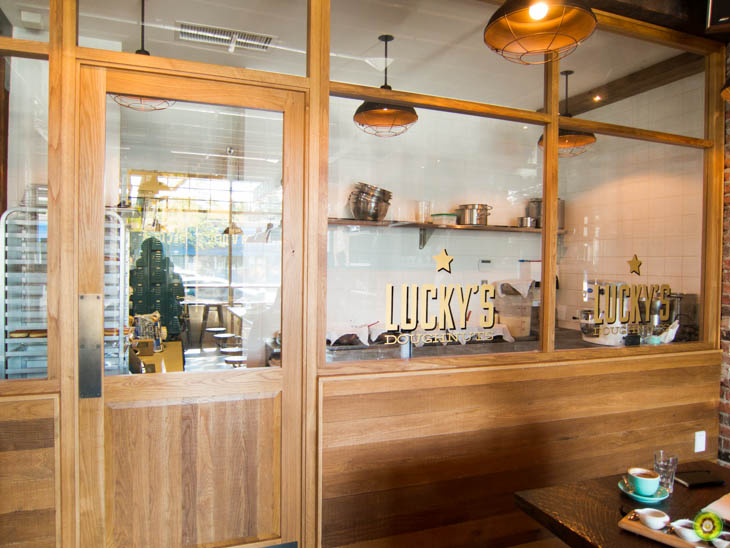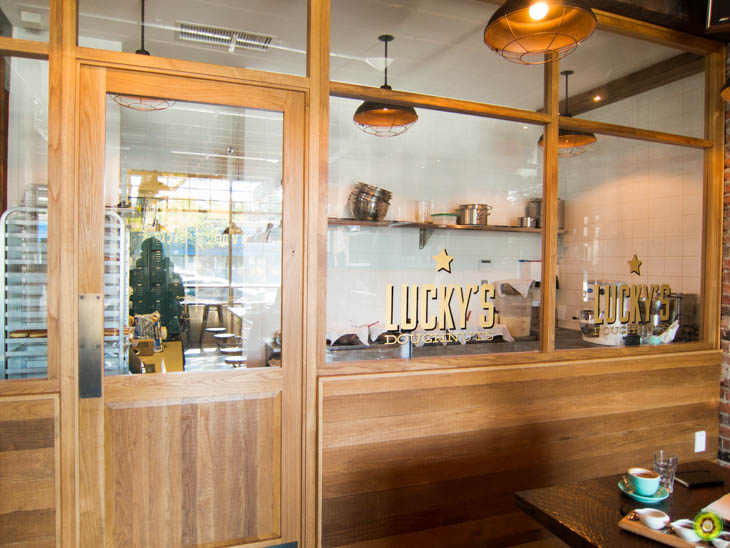 Lucky Doughnuts is actually baked into 49th Parallel Coffee Roasters, a coffee shop on the corner of Main and E 13th Ave. Everything is made in-house, from the glazes and fillings to the creams and doughnuts themselves!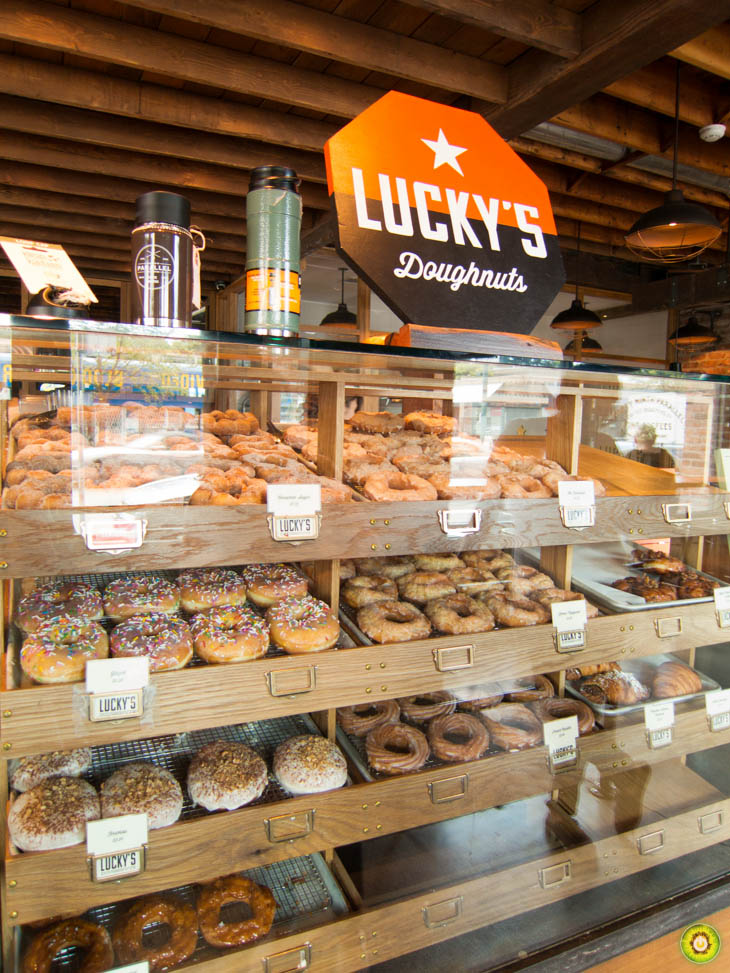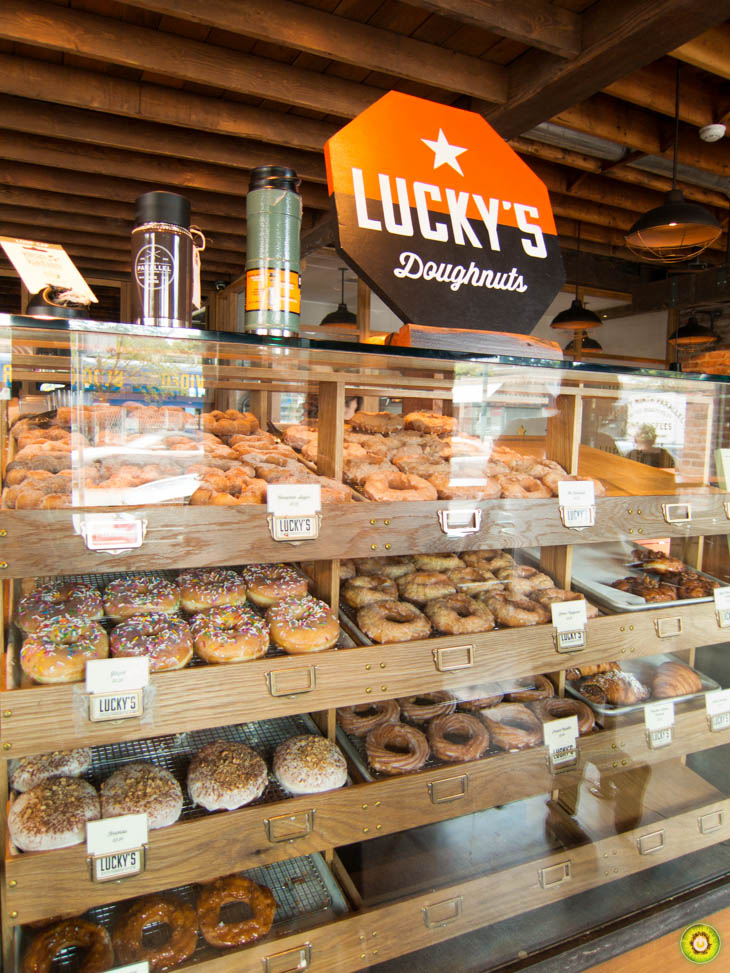 Smack right in front of the door was the Lucky's Doughnuts' gorgeous display case. How can you walk in and not buy a doughnut?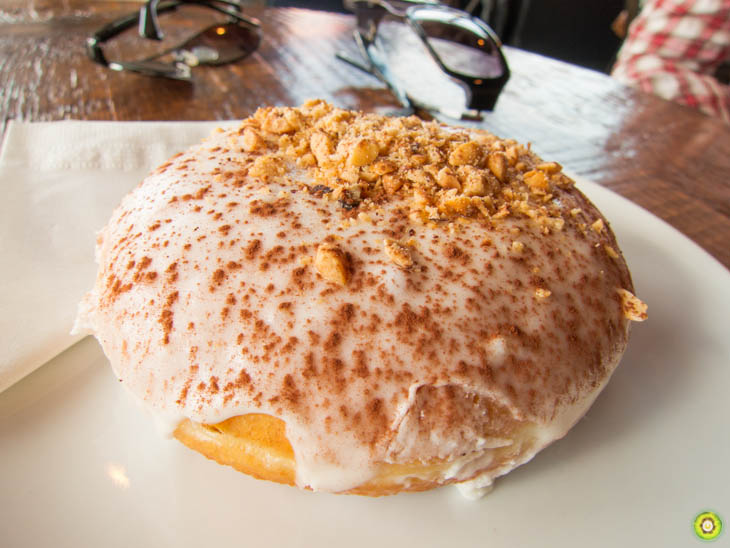 Looking for something more unique, we picked the Tiramisu ($3.50) doughnut, which was topped with a mascarpone glaze and lightly dusted with cocoa powder.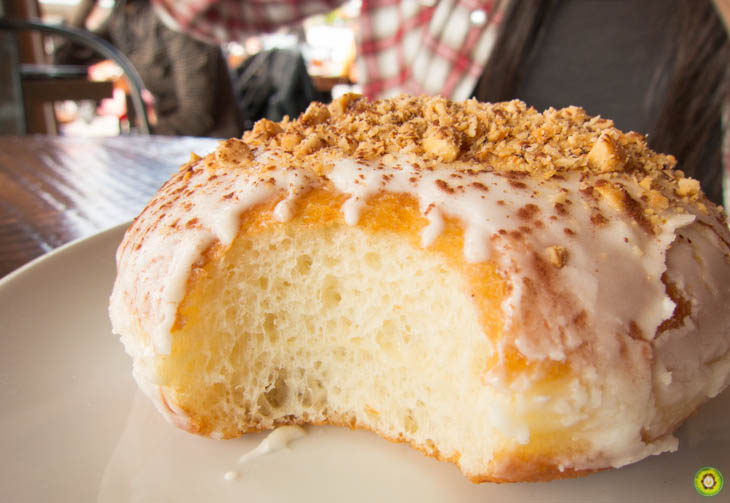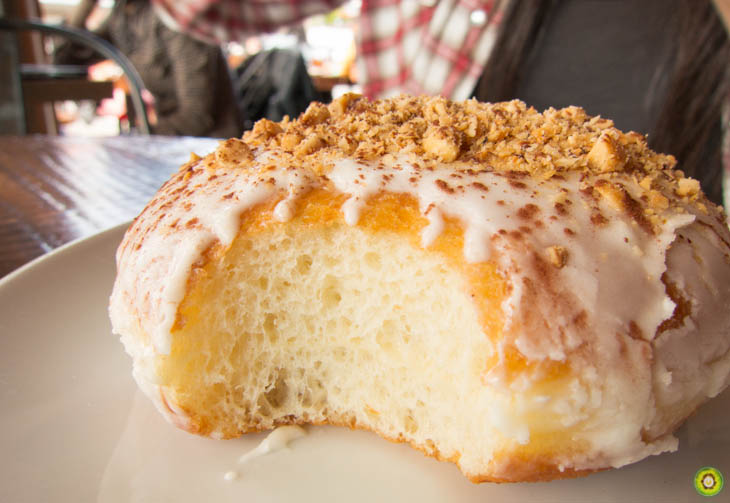 Have you ever seen those cartoons where someone accidentally ate his pillow while dreaming about food? Bring that to real life, and that's what you would get with this doughnut. It was so incredibly fluffy and light!
When I first took a byte, I thought there wasn't any filling. Took a second one – BAM! A surprise explosion of coffee cream! It was silky smooth and subtly sweet. The coffee flavour wasn't particularly pronounced, but it still paired well with the mascarpone glaze!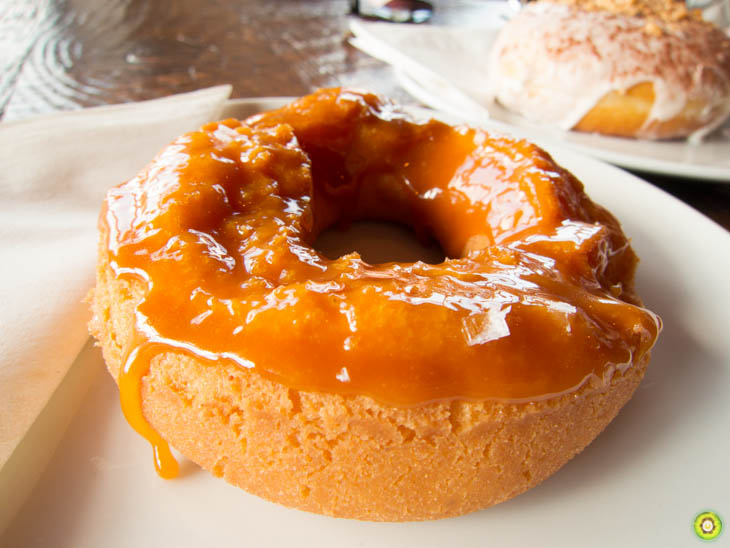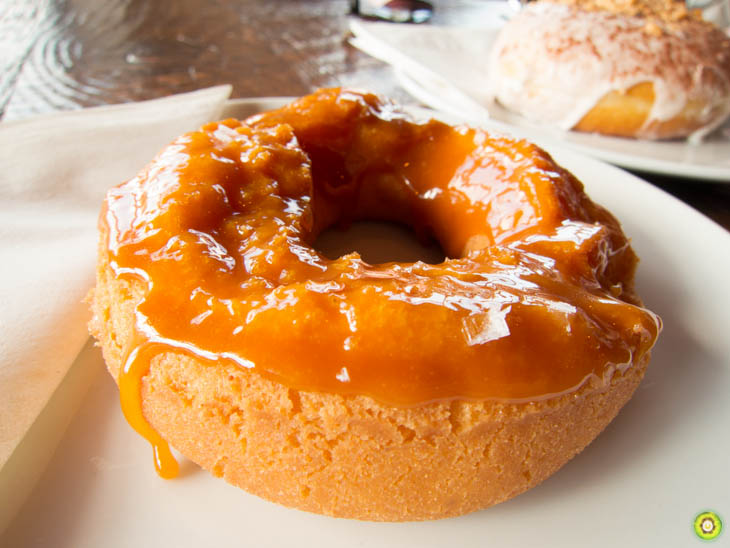 Taking a turn to the more traditional doughnuts, hippoCHAN was eager to try the Salted Caramel ($3.25). Just like the tiramisu, the doughnut was awesomely light. However, the caramel wasn't as strong as we would've liked. Sucking on it did draw out more flavour though!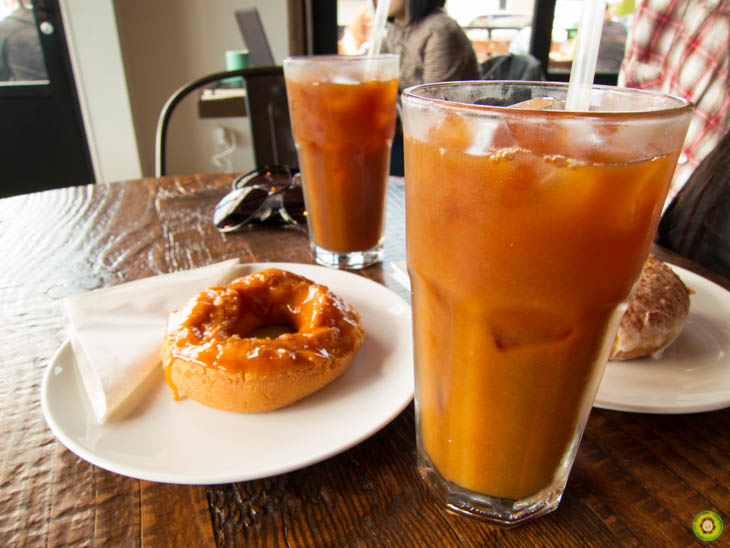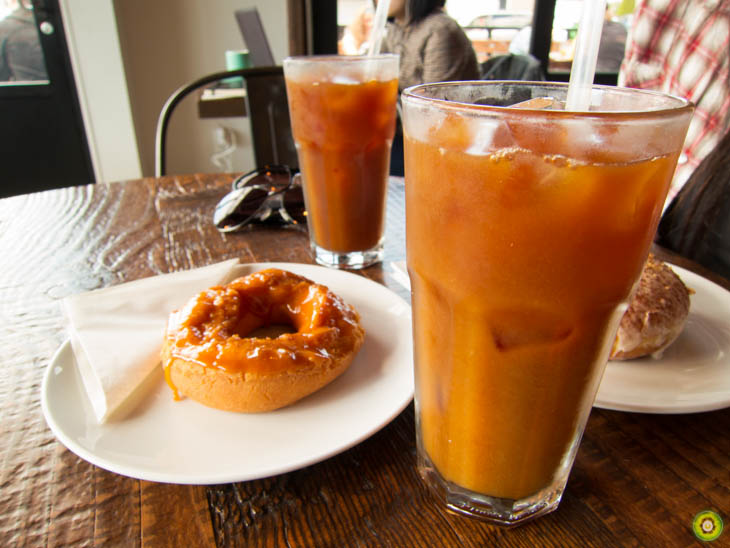 Besides our doughnuts, we ordered a couple of Iced Coffees, which were fitting for the beautiful summer day. Except, they had an odd sour finish. I find this typical of regular coffee, hence why I usually opt for americanos… not sure why I didn't order an Iced Americano that day.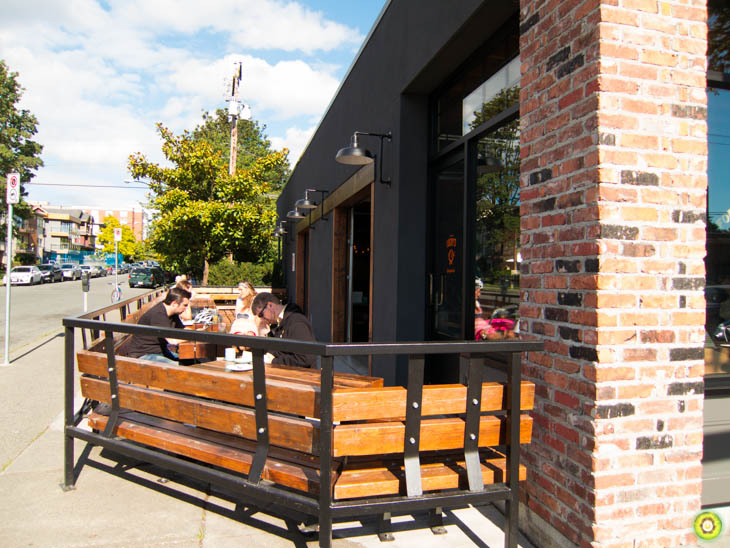 49th Parallel also has some great outdoor seating that's perfect for summer!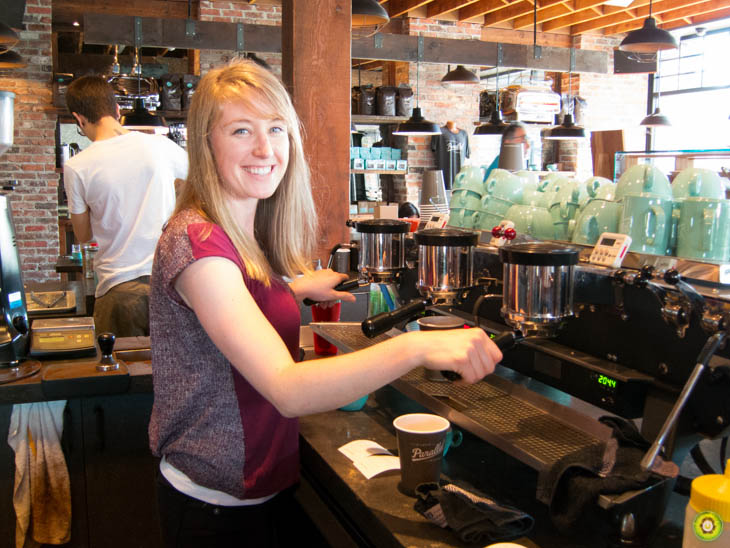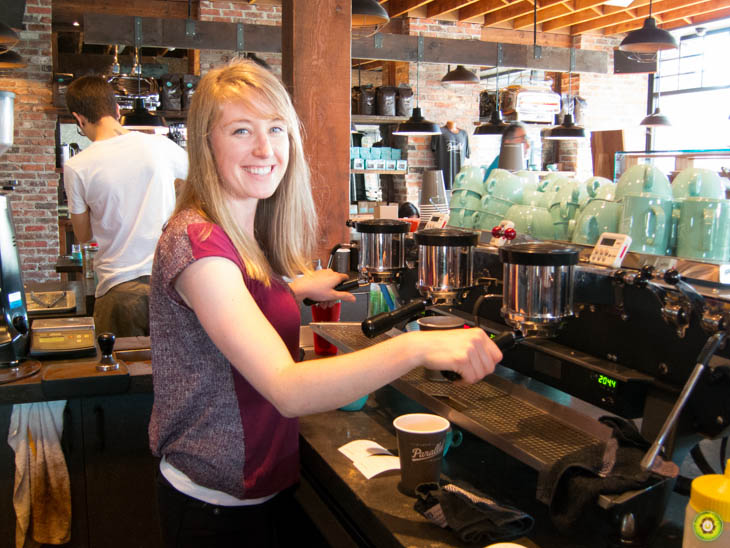 I didn't manage to snap a picture of it, but my good friend Erin gave us a sample of Almond Milk. It was killer! Just like their doughnuts, 49th Parallel makes their own almond milk! Super refreshing and tasty. I would be more than ecstatic to order a tall glass of just almond milk – and a doughnut to boot!
Final Bytes
Super awesome environment! Great music (not that radio garbage) and spacious with plenty of tables – just gorgeous overall!
Who doesn't love doughnuts and coffee?!
I don't think I can ever enjoy Tim Hortons anymore…
Foodobyte's Rating

---